Well, this is embarrassing. Imagine entering a 55km solar powered speed boat race and finishing the course an-hour-and-ten-minutes ahead of your nearest rival!
It was a sunny calm day for the race – ideal conditions for vessel's powered by the sun. The CLAFIS Victron Energy Solar Boat flew around the course, at Akkrum, in the Netherlands, last weekend (11th-13th May) at an average speed of 35km/h. With no sign of the other competitors, there must have been times when skipper Gerard van de Schaar wondered if had taken a wrong-turn.
Day two hosted a relay event whereby a runner, having completed 1.7km on foot, 'tags' the solar boat which then has to complete a 1.2km sprint around the town of Akkrum – Akkrum, for those among us who are not aware of Netherland infrastructure, is surrounded by water, and looks like this:
The third and final day of racing was a sprint of 350 metres. This allows competitors to show-off their craft's abilities! Gerard's boat achieved an almost unbelievable time of 33 seconds, topping out at 49.8km/h!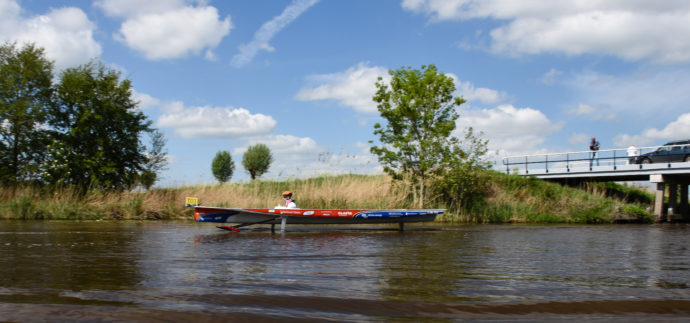 More races are on the way – and the only problem with being so successful is that even greater things are expected of you every time. We can't wait to see what happen's at the next…
29/30 of June          Solar Sport One race, Groningen
4/5/6/7 of July        Solar Sport One race, Groningen – Leeuwarden
13/14 of July           World Cup race, Monaco
Victron Energy sponsor the CLAFIS Victron Energy Solar Boat Team and are very proud of their achievements.
You can follow their news on Facebook:
https://www.facebook.com/furiaonesolar/