Victron Energy technical training is primarily for Victron distributors, dealers and installers – these events having been started some 14 years ago by Ruurd ten Brink (now retired) and Johannes Boonstra. If you've not been to one of these events, which are held in a number of countries and delivered in various languages, then let me give you a flavour of what to expect.
Recently I was flattered to be invited to an event in Almere, in the Netherlands close to Victron's head office. The main purpose of my visit, after four years of blogging for the company, was to put names to faces and get a chance to actually meet real Victron folk – something my internet blogging work can't match. Of course attending such an event, the primary focus for most, is all about gaining a deeper technical knowledge of Victron Energy products and although I don't fall into the dealer category – this blogger certainly gained valuable insights across a range of products and subjects. For me personally though the highlight was meeting passionate Victron people.
Location
This event was held over three days at Hotel Almere, part of the Van der Valk group of hotels. A comfortable four star hotel with rooms, dining and conference facilities to match its rating, which I felt was perfect for the stature of a company like Victron Energy. It was a relaxed atmosphere with training taking up most of the days, but still allowing time for folk to arrive on the morning of the event and leave at a decent time for their return trip home, so minimising time away. Socialising in the evenings and at meal times allowed plenty of opportunities to meet like minded people, especially as there were areas reserved exclusively for Victron. It was also good to see Victron MD Matthijs Vader and company founder Reinout Vader, who came to lunch on two of the days and made every effort to meet as many of attendees as possible – 320 of whom attended over the three days of training.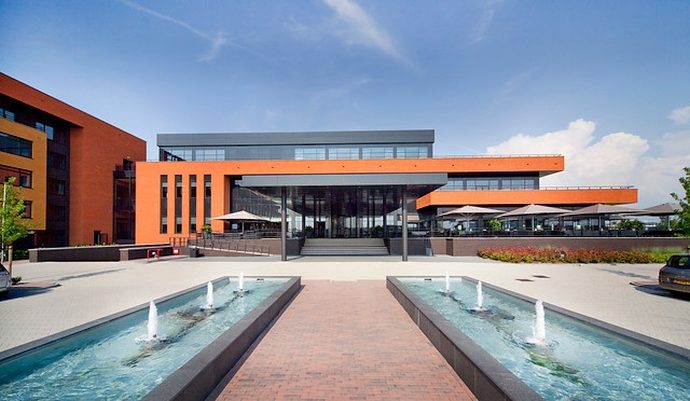 Attendees
From my own point of view it was great to meet and learn from the sheer variety of people in attendance, from the small to large businesses that use Victron products in traditional and innovative ways, be that simply providing reliable AC power in a van to recharge hand tools for technicians on the go, light weight portable lithium power packs for the military or large grid tied renewable energy projects. Every market sector was represented as were many nationalities, French, Dutch, British, Irish, Belgian and more. Here's a random sample of a few of the companies that attended:
Training format
In this instance the training was organised by Ruurd and and delivered by Johannes in English, both whom have extensive product and technical knowledge. All jokes though seemed to be in Dutch, so I'm still in the dark as to what I was laughing at!
The training format at this event was a sequence of slides with plenty of opportunities for questions and answers. Links to the training slides are at the foot of this blog.
Suitably spaced coffee and lunch breaks provided time for attendees to talk not only to fellow dealers but also Victron sales staff from a variety of countries.
After a general introduction of personnel and a company progress report, various subjects were covered including batteries, chargers and charging, combined inverter/chargers and Energy Storage Systems (ESS), solar array sizing and so on. Training varies from country to country and indeed some events may be more hands on. To see what is on offer and where, simply check the events section in Victron Professional.
A nice touch at this event was a Colour Control GX demo unit with MPPT solar chargers and a MultiPlus, where plenty of conversations at break times ensued about the sheer range of capabilities of this remote monitoring system.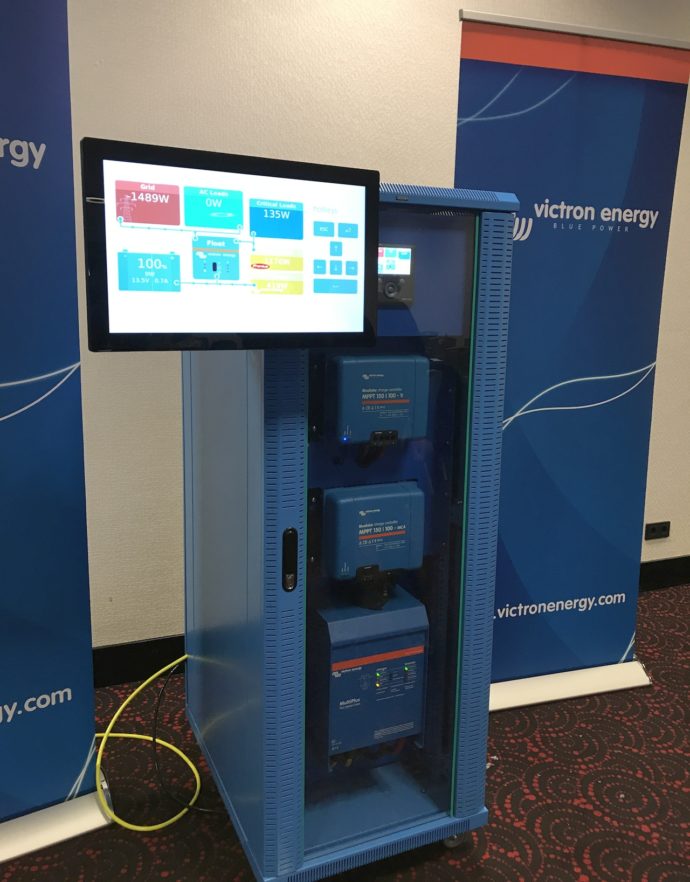 Sponsorship
Being so close to Victron's head office and a few of the sports teams that Victron sponsor, it was neat to able to see how Victron products can be integrated and of great value to such teams. For example Team LottoNL-Jumbo brought along their cycling support truck – and what's all that without power for hand tools and a washing machine, powered by you know who…
Conclusion
I hope the above gives you a flavour of what's on offer training wise and the kind of sponsorship Victron is involved with. In fact at the end of the training event there was even a presentation of – and offer to an expenses paid accommodation and meals (flights excluded) opportunity to attend the Speed Skating Olympic preparation event, in January 2018, of the Gewest Fryslân speed skaters.
This might be a Dutch passion but attending I suggest will be a great way to learn more and have some fun the Dutch way, something that also shone through in the training event at Almere.
Great people, products and passion.
You can learn more about speed skating and the Victron sponsorship in this newsletter.
If you want to see the course material from this technical training event you can check out the slides in Dropbox (links below) – and if you have ideas or requirements for training in your region why not discuss it with your regional Victron Sales manager, who can be contacted here.
John Rushworth
Training slides links:
Here are the links to the technical training from the above event held in Almere, November 2017: