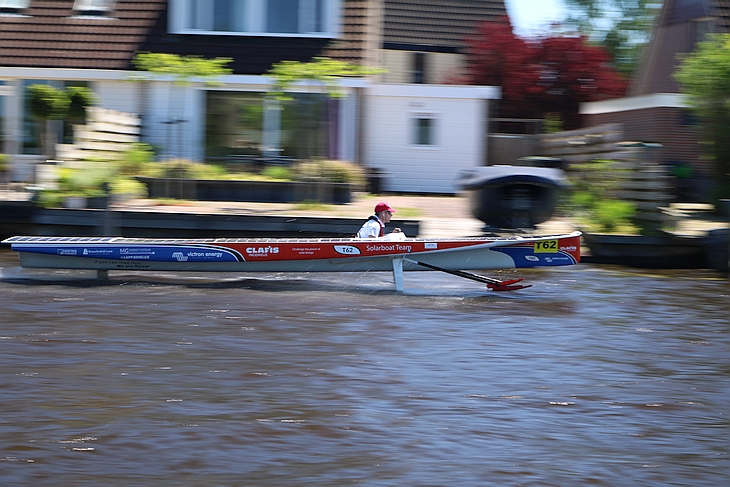 You may recall we've reported before on the CLAFIS Victron Energy solar boat team and their successes. This weekend the team returned to the water with their updated 2017 boat Furia III in the hope of continuing their winning ways.
The Eneco Solar Boat Race NK 2017 was held over two match day races. On Friday, May 26th, the Endurance race distance was 52km and on Saturday it was the 'round Akkrum' race, completing as many laps as possible in a given time. For the last element of the competition it was a sprint race which ended as it did last year at the 'De Kolk' railway bridge in Akkrum. Taking these three different race elements into account they were then 'weighted', with all of them being counted toward the overall final result.
Race classes
There are a number of race classes, the A class and the top class – a photo of the top class boat which you can see in the headline image above and below, which in this instance is the Victron sponsored Furia III piloted by Gerard van der Schaar.
An additional class, which debuted in 2016, is the Young Solar class where teams are aged between 14 and 17 years old, racing with their homemade boats. Victron sponsor this class too, but I'll let fellow blogger Justin Tyers explain these enthusiastic youngsters in a separate blog.
For now here's a video of various race boats and the surrounding area of the 52 km Eneco Solar Boat Race NK, held on Friday 26th May 2017. The video is courtesy of Jelte Van Der Meer.
Drama and the dramatic
To give you a flavour of the racing, these dramatic aerial photos should also do the trick.
Dramatic as these photos are, it was not all plain sailing for Furia III as they hit a piece of wood during the race, severely damaging the propeller. Drama indeed –  it seemed as though their race was over.
Fortunately the well organised team have a spare available for every part of the boat and Furia III pilot Gerard very professionally backed up to the shore, to investigate the damage.
Within seven minutes the team had swapped the prop for a new one and continued the race.
All is not lost
Speaking to Gerard after the race, it became clear that had the prop change not been so quick, they would have come last. Not to be outdone and bearing in mind winning past performance ways the team pushed on – and subsequently won! A testament to team work.
Results & Prizegiving
Once again it's great to see a Victron sponsored boat and team in the No 1 spot, piloted by the ever determined Gerard van der Schaar.
Top class
1. CLAFIS Victron Energy Solarboatteam (T)
2. Dutch Solarboatteam (T)
3. New Nexus Solar Racing Team (V)
4. Solarboat Twente (T)
5. DB-20 Racing Team (V)
6. spectrum Solar Team (T)
7. Sunderland Bird (T)
8. TU Delft Solarboatteam 2016 (T)
9. Gowrings Energy Team (T)
To add to the team's success Victron Energy MD Matthijs Vader attended the event to meet all concerned and congratulate them.
Conclusion
Congratulations to all and many thanks to the CLAFIS Victron Energy solar boat team for the photos used in this blog.
John Rushworth
Links
Event website – Eneco Solar Challenge
Facebook – CLAFIS Victron Energy solar boat team