It's good to hear from Victron distributors about the innovative projects they get involved with using Victron Energy products. In this case Jens-Uwe Prag, Managing Director of Service Team Döbeln in Germany, got in touch with us citing such an example.
VIMTEC – Video.Monitoring.Technology
GEMTEC GmbH, a customer of Service Team Döbeln, are a mid-sized, family-owned firm specializing in security and communication systems. Over the years they have grown steadily to become one of the largest providers of security equipment in Saxony.
In their quest for new solutions, GEMTEC have devised a totally new product  which uses Victron Energy products supplied by Service Team Döbeln. This product is called the VIMTEC MBE, which is a mobile  and autonomous surveillance unit. This highly versatile system is designed to monitor construction sites, large events, traffic, and much more besides.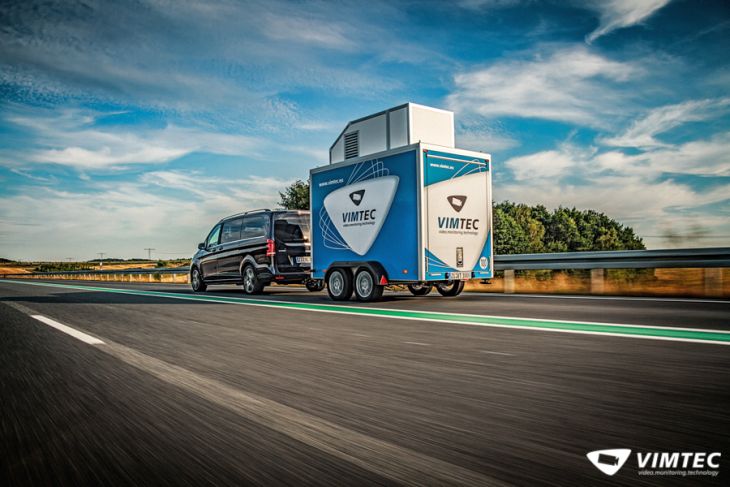 Hybrid autonomy with Victron Energy
Standalone power for the VIMTEC MBE is provided by a hybrid system consisting of a diesel generator with Victron Energy battery storage. This enables the unit to operate in isolation for up to 120 days in areas where no currently installed surveillance infrastructure exists.
At the heart of the unit, within the tamper proof  body which incorporates its own system security, is a pneumatic mast that can extend up to 15 m in height with 360 degree cameras and lighting on the masthead.
A range of surveillance fitment options exists which can include thermal imaging, IR lighting, motion detection, access control, perimeter surveillance and alarm verification from a distance. The units can also allow verbal contact via loudspeaker along with video recording, management systems and image analysis software. The commissioning of the specific detection and evaluation techniques can even be carried out remotely.
Assisting this level of sophistication and to make this all possible are Victron Energy gel batteries, a Multiplus, BMV-702 battery monitoring along with the offsite remote control and monitoring made possible by a Color Control GX and the Victron Energy VRM portal. You can see this, all expertly installed, in the headline image of this blog.
Conclusion
Once again it is great to hear of innovative design incorporating Victron Energy products. Congratulations to those involved in producing a highly professional surveillance system. If you have an interesting project such as this – do get in touch with us so we might feature it here on the Victron Energy blog.
Credits
Thanks to Bob Hopman for the heads up on this project and of course Service Team Döbeln and GEMTEC GmbH for the information and images featured in this blog.
To learn more about the VIMTEC MBE visit: http://www.vimtec.eu/en/
John Rushworth