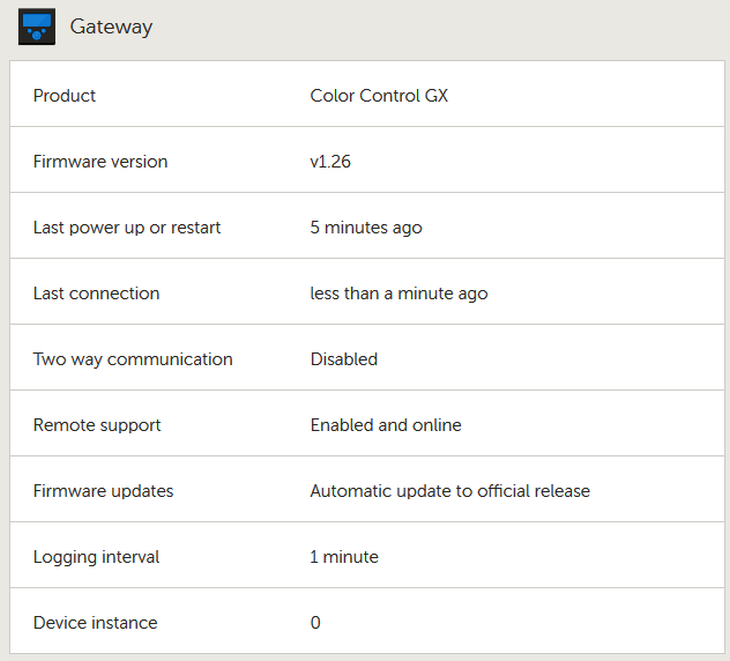 Blog post update 23rd July: It is not recommended to change the firmware 'Update to' setting. Leave that setting on its default, which is 'Latest release'.
When changed to 'Latest release candidate', the Color Control will participate in test programs, also known as beta versions. Of course you can set this, but we recommend to certainly not do it in every system you install, and not in normal customer installations. What for example might happen (worst case) is that there is a bug in the release candidate which can only be recovered by first performing a fresh software install from an SD card and then reconfiguring everything manually: not the right thing to happen in normal customer installations.
Start of original post
Firmware v1.26 is now available for your Color Control GX (CCGX). If your CCGX is set to update automatically as shown in the image above, it will have automatically updated in the early hours of this morning.
If you need to do an update with a USB-stick or microSD-card (if your CCGX is not connected to the internet) the recovery image is here:
http://www.victronenergy.com/feeds/ccgx/images/CCGX-v1_26-recover.zip
For a history of previous firmware updates you can view the 'Firmware & Software' category of this blog:
https://www.victronenergy.com/blog/category/firmware-software/
Here is the current Changelog:
v1.26 – 22 July 2015
Fixed bug in 'Log to storage' option
Fixed all known bugs in the Remote VEConfigure functionality
Added wireless support (ZigBee) for Hub4
Minor fixes in the Fronius service, one of them could cause the PV inverter to be reported as instance 0
Log the error code and status code of the Fronius PV Inverters on change, instead of on the fixed interval
And more stability fixes
Fixed BMV alarms when no alarm is active
Fixed BMV temperature when no sensor is connected
As ever we welcome your comments in Disqus below.