Many congratulations to our sponsored sailors Odile van Aanholt and Annette Duetz who have just taken the Silver Medal in their latest Olympic-qualifying event!
Completing their latest event yesterday (Friday 18th) sailing the super-fast skiff the 49erFX in their home waters at the Allianz Sailing World Championships, held at The Hague, Nederland, over a wide range of sea, tide and wind conditions the Dutch sailing duo secured their medal in spite of injury (sail-handler and foredeck foot-worker Annette raced wearing a knee brace) and in spite of a disqualification in race 6 for an over-zealous rounding of the third mark which burdened them with a 30 point penalty. Yet still they managed to stay ahead of 56 other boats!
Anyone who has ever finished last in a local yacht club race (am I alone?) will know that achieving 2nd place among a 58-boat fleet crewed by the world's best sailors – in a competition as grand as the World Championships – is an AMAZING achievement!
Throughout the sailing season Odile and Annette have consistently delivered top-performances keeping their names on the medal board.
Rolling seas and high winds earlier in the competition threw many sailors overboard, whilst the soft breezes and strong tides towards the end of the event tested every team's tactics with many pile-ups at the marks.
During one event – the dinghy class known as the Ilca 7 in which seventy-boats were competing – there was a whirlpool-crush at the first turn which only became more chaotic as the boats which had missed the mark in the strong tide performed a 'turn-around' – presenting themselves at the mark moments later for a second time as yet more competitors piled in from further down the fleet. It became so crowded you couldn't see the mark from any direction – making it impossible to say which boats had committed an infringement and which had gone clear!
The conditions throughout the event were challenging for every one of the event's 1000 sailors.
Odile and Annette's achievement means they have now qualified to represent The Nederlands at the Paris 2024 Summer Olympics.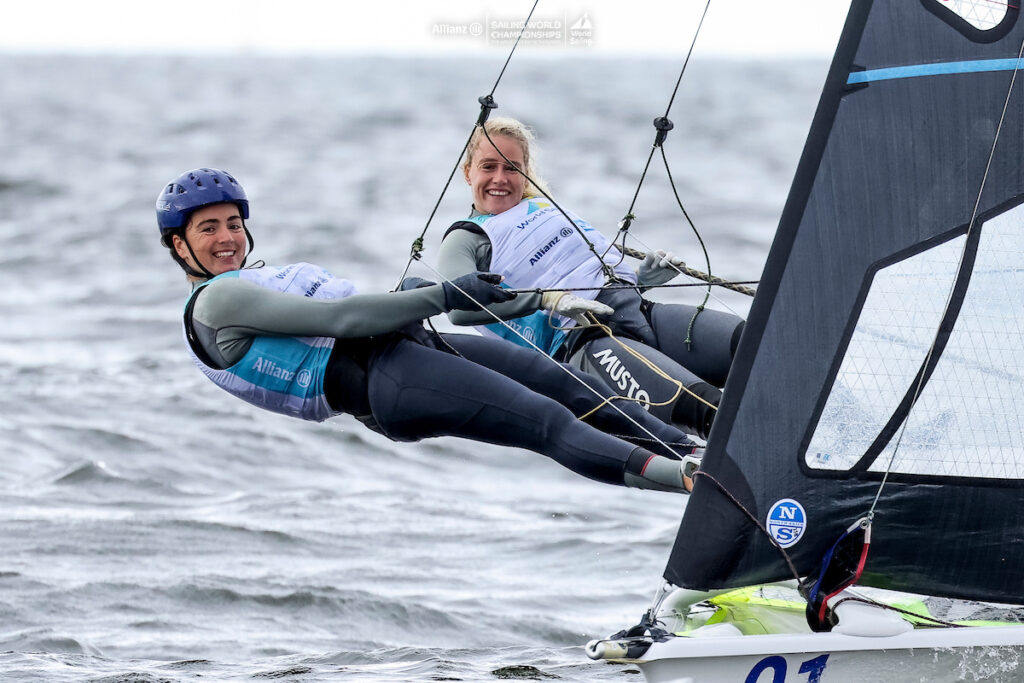 Of course they will be disappointed not to have taken Gold to retain the World Champion title – but I suspect they are merely lending 🙂 that distinction to Vilma Bobeck and Rebecca Netzler, of Sweden for one year only in recognition of a very creditable performance during this event in which they finished half of the heats in first place.
Taking the Bronze medal were the Australians Olivia Price and Evie Haseldine.
We wish Odile and Annette fair winds and happy travels during the long months of training which lie ahead now that they can be certain of their appearance on the grandest stage of all – next year's Summer Olympics, which will be hosted by Paris.