Hervé Nizard has been building his tropical eco resort on the unspoiled Caribbean island of Dominica in an unhurried way.
Using natural materials, work began at Citrus Creek Plantation in 2008 and now features twelve buildings – including a restaurant offering french cuisine – and accommodation for up to 25 guests.
Visitors who love nature and tranquility are treated to freshly-prepared produce, home-grown on the 20 acre plantation, including mango, coconuts, guava, papaya, and bananas. Vanilla and Cocoa are grown for export.
Dominica is jungle, but without dangerous animals …so you can walk barefoot on the banks of the Taberi river (alongside which Citrus Creek Plantation is situated) or explore further afield to waterfalls, the second largest boiling lake in the world, or take a walk around any one of Dominica's nine volcanoes.
Cottages built from stone and timber are powered solar energy to run low-demand eco devices such as 'A' rated refrigerators which use a miserly 300Wh – per
day
, ceiling fans offer comfort instead of high-draw air conditioners, and spring water is pumped on demand. Last year, wind and solar met 99% of the eco-resorts power demand.
Hervé has a unique advantage when it comes to designing sustainable energy systems – his company Sustainable Earth Inc. is also the island's distributor for off-grid and grid-tied private power systems with 140 installations under their belt.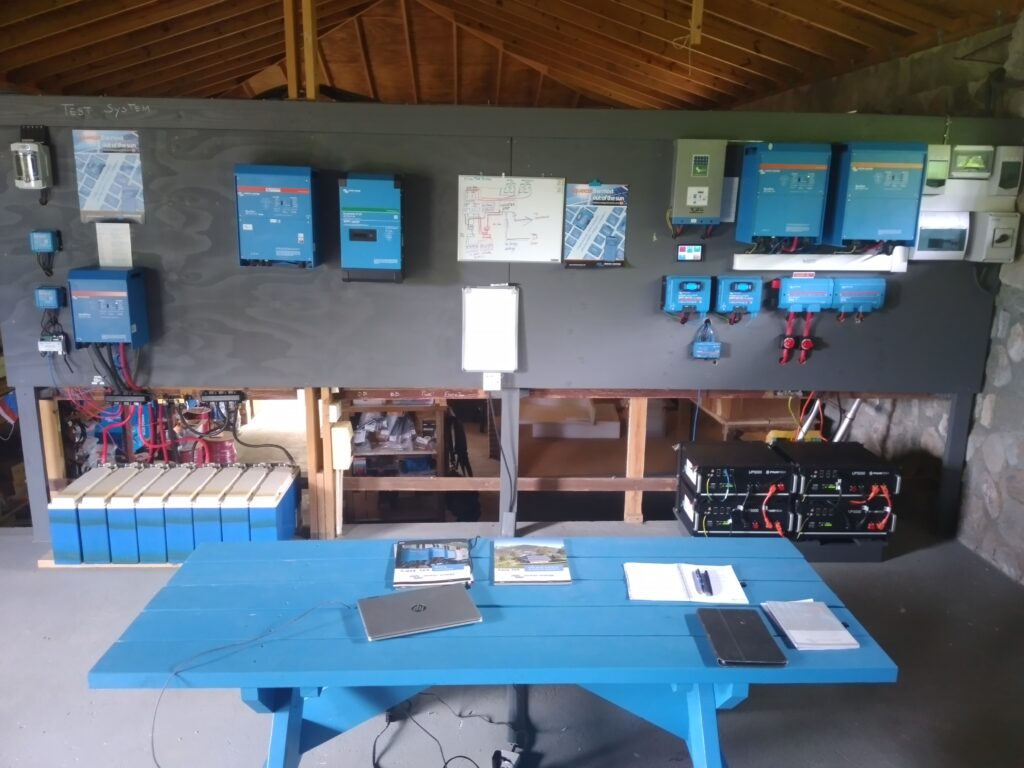 Sustainable Earth solar lab is located within Citrus Creek Plantation property . This is where Sustainable Earth stores their inventory, and tests solar products and is also where Sustainable Earth Inc prepares, pre-wires and mounts the solar systems which are to be installed by their island customers.
The Citrus Creek Plantation solar system is designed as a Mini grid – but with a grid connection: Three solar installations radiate from Citrus Creek Plantation's main hub, which is connected to the Grid using Grid-Assist with Virtual Switch settings on VEConfigure.
The hub has a 9 kWp solar array feeding 2 x SmartSolar MPPT 150/70 solar charge controllers. AC power is provided by two Quattro 48/5000 units working in parallel. Energy is stored  in 6 x UP5000 Pylontech Lithium batteries have a capacity of almost 30kWh. Being an island, wind is frequently available as a power source and the system includes a 3kW Wind turbine.
The three satellite power systems are typically each provided with around 2kWp solar arrays. AC socket outlets are powered by 3 kVA inverter/chargers – either the MultiPlus or, for easy installation, an EasySolar II unit which has a solar charge controller built-in. Energy storage of between 8 and 10kWh is provided by AGM batteries – and using Lithium batteries in the most recent development. Whenever these satellite power systems for the accommodation or attractions need a battery top up – this is provided by the main hub.
(By the way, when choosing a Solar Charge Controller which will be a perfect match for a system's solar array, cabling distance, and DC voltage, it's invaluable to consult the MPPT calculator.)
Until 2017 the electricity grid in Dominica had been a fairly reliable if expensive utility at 0.45$US per kWh – although prices are expected to fall by a third when a 10MW geothermal energy project is complete.
Never-the-less, the category 5 Hurricane 'Maria', which struck the island that year, destroying much of the power infrastructure and cutting off supplies to some remote places for over a year, concentrated minds on how to secure businesses and livelihoods from power outages – which are inconvenient in the short term, but catastrophic when they become semi-permanent.
Hervé says: Most of the systems we have installed are residential – both Grid-Assist and Off Grid. Grid tied systems do not typically sell energy to the grid in Dominica as exporting energy is complicated, and the network does not pay for imported energy. Consequently the grid is configured as a backup power supply for battery recharging during extended periods of dull weather.
The main challenge to the electricity grid on Dominica's 750 km2 of rugged mountainous tropical jungle which is home for 60,000 people is the weather; most of the power lines are suspended on posts making them very prone to destruction by hurricane. As a result of that vulnerability, the cost of grid-energy, the importance of daily internet access and the environmental advantages of going green, businesses such as supermarkets and hotels, including industrial sites requiring three-phase energy as well as private houses are contemplating off-grid systems for their own power security.