Looking back at the approximately ten hours of sailing, over six days – featuring seventeen races which clocked-up seventy-odd miles on the water – it wasn't clear until the last few minutes of the final race that our sponsored Dutch 49erFX sailing duo would snatch the victory for which they had fought so hard – WORLD CHAMPIONS!
Odile van Aanholt and Annette Duetz achieved their extraordinary success in the 2022 World Championships which has just concluded in Nova Scotia, Canada.
Although this is the first time they have become world champions together, it is Odile's second World title win, and Annette's third …which is itself a record!
The competition was sailed in ideal conditions for spectators and sailors alike – mostly there was plenty of wind, and challenging sea conditions.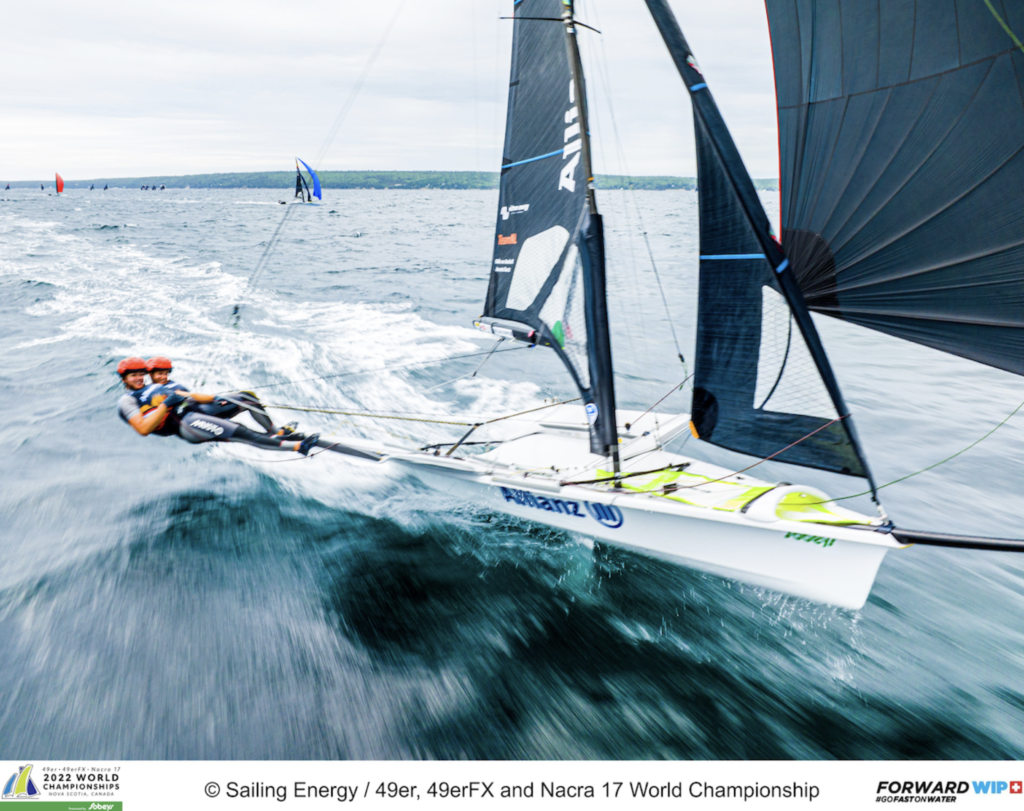 Sailing at speeds of up to 30 knots competitors skim just above to the water on trapezes, keeping their weight well-aft in order to lift the bow on these fast and furious, and deliberately unstable sailing skiffs. If ever the bow is allowed to bury itself into a wave – catastrophe – the boat will trip and somersault. At Nova Scotia, some did!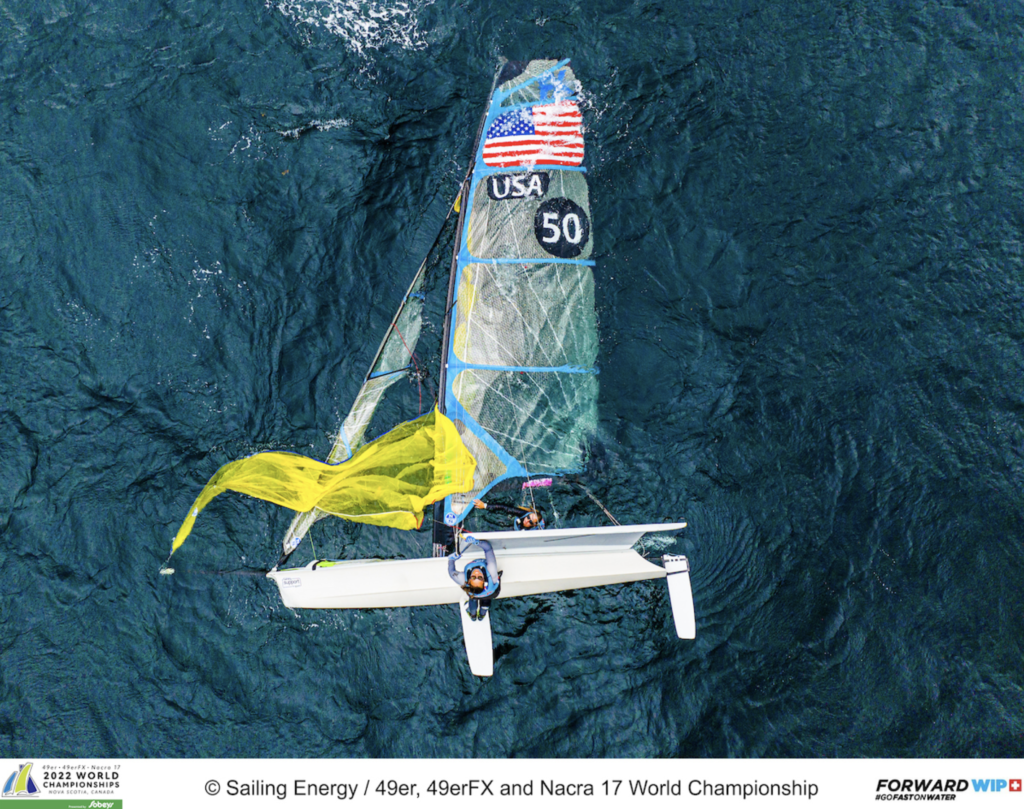 Odile and Annette produced remarkable consistency in all kinds of conditions, finishing ten of their races in the top three from amongst a fleet of 36 boats, sailed by the best athletes in the world.
Three races, however, proved disastrous for NED 1 – finishing 29th, 24th, and 16th – and it's a testament to their professionalism – and their coach – that they were able to put those results behind them and bounce straight back with fleet-leading finishes. How did they do it?
Odile says after that terrible day she shut down, became withdrawn and was filled with doubt. Annette, too, wondered if they would be able to recover their form.
That evening they had a great de-brief with team coach, Kaj Böcker. Kaj likes to keep things simple. He says there are three elements to winning races: Start; Speed; Strategy. You don't need to worry about anything else.
Odile and Annette have added two more S's: Smooth; and Smile!
'Smooth' is all about handling the light-as-air boat with gentle well-timed movements.
And 'Smile' is remembering to have a good time! They do that quite a lot!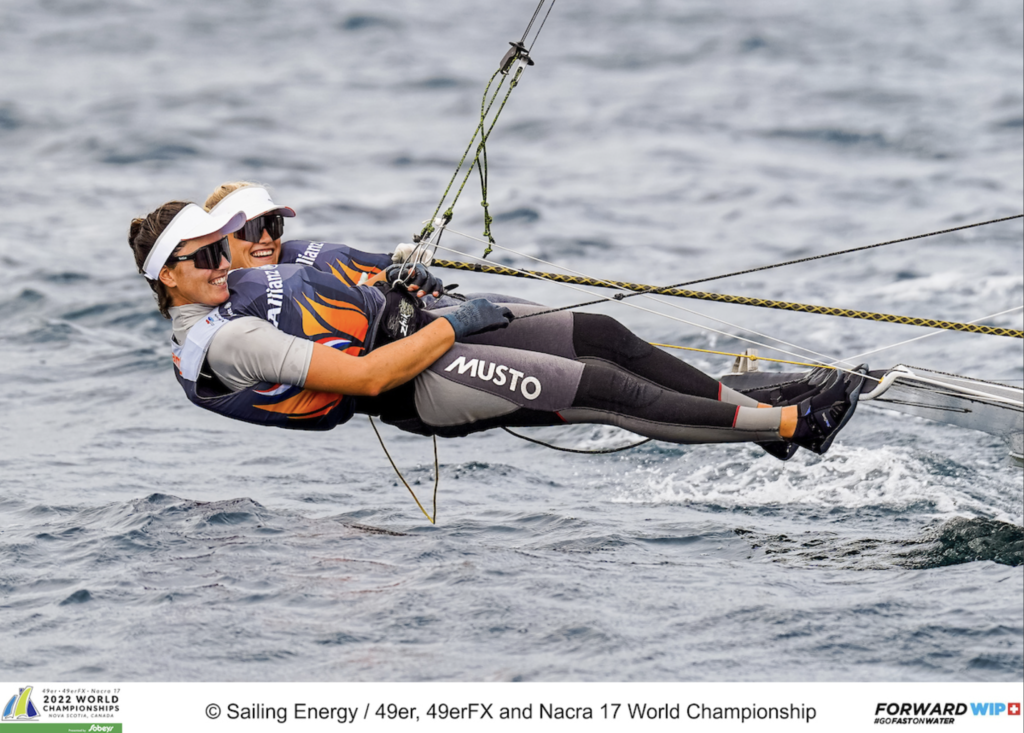 The morning after the disaster they both admit to having trepidation about what the new day would hold. But with confidence restored they immediately bounced back to form with a fourth, then a second, then a third. That's really stylish sailing!
Medal Race
They began the final 'Medal' race assured of either Silver or Gold but their closest rivals – the Swedish team comprising Vilma Bobeck and Rebecca Netzler – were within easy reach of winning the contest.
Moments before the starting gun a shift in the wind caught all competitors by surprise. At the gun, the Swedish boat was forced to tack in order to avoid a collision …even before crossing the start line!
The same flaw in the wind stunned the whole fleet, however, and a slow-motion start allowed the Swedes – thanks to a really smart piece of boat handling – to make possibly the cleanest getaway, after all. The race was on!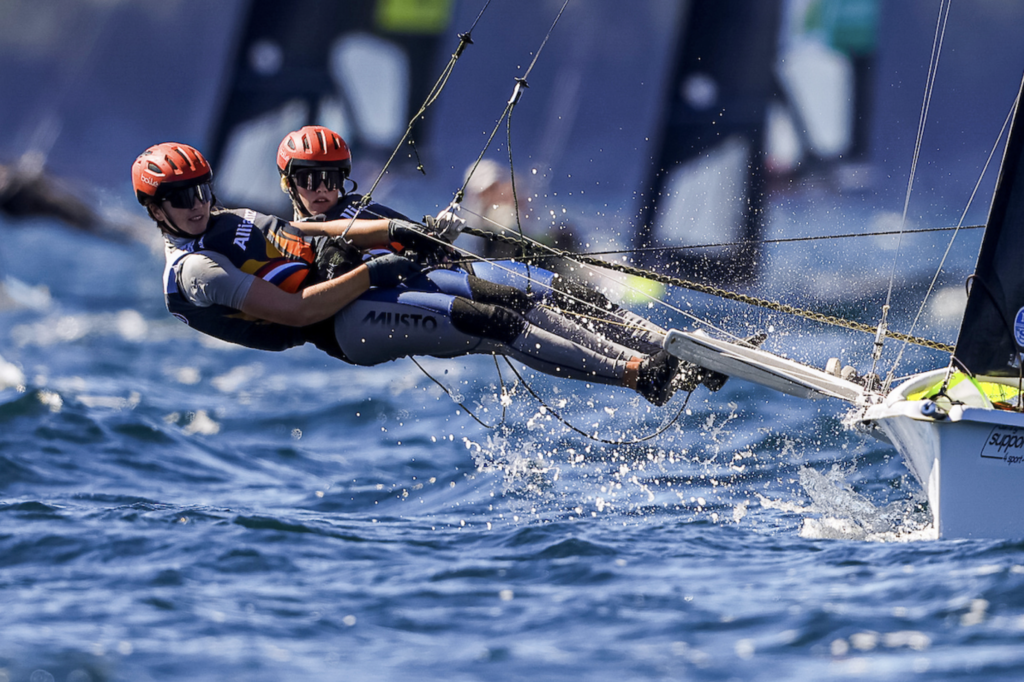 It was clear from the outset that Odile had Strategy. She helmed the Dutch boat on a clean and lean course which eventually delivered them to the first mark in fifth place, with the Swedish boat astern.
Another shift in the wind added to the Swedish stress, and an error of judgement forced them into two more course corrections in order to round the same marker. From now on, at the back of the fleet, the Swedes could do no more than hope for a serious error aboard the Dutch boat.
No Dutch errors came: Odile van Aanholt, and Annette Duetz were doing what they do best – picking great lines, fine tuning for speed, and slowly moving up the fleet.
It wasn't until they were half-way through the four-leg race that they noticed how much water they had put between themselves and the Swedish boat. Not daring to count their chicks before they'd hatched they continued to fight for every metre.
They crossed the finish line in third which was easily enough to claim their title after some brilliantly consistent results over the previous five days!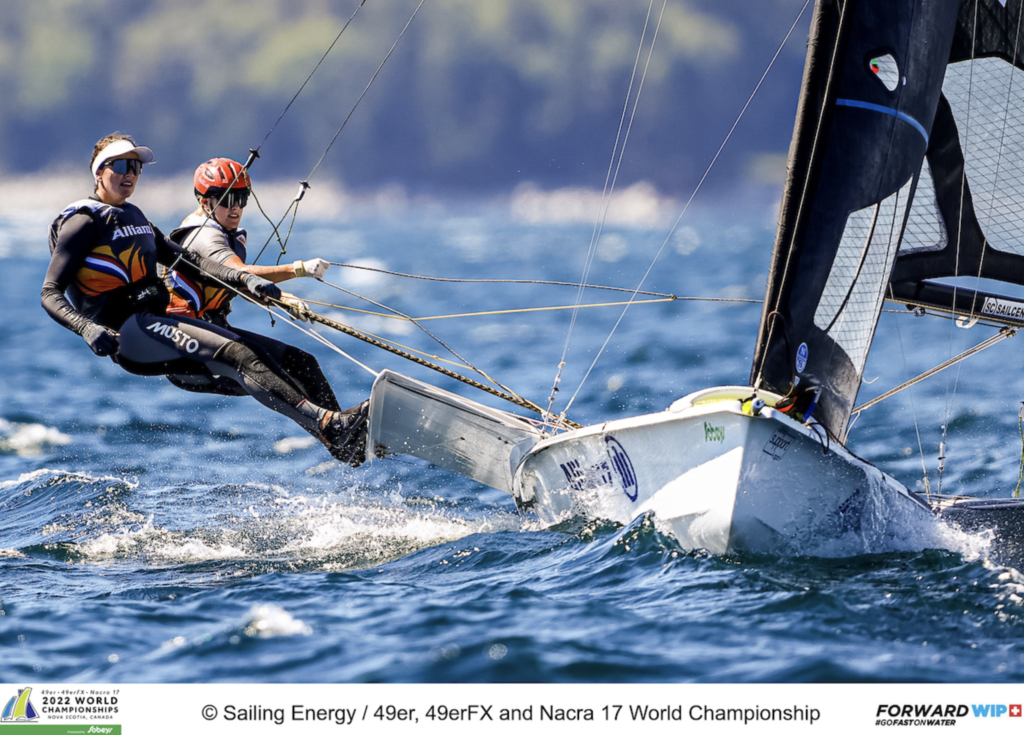 Sweden won silver – a reward very much deserved; and Spain's Tàmara Echegoyen and Paula Barcelò were sure of Bronze even before the race started.
Victron Energy are proud to sponsor the Dutch 49erFX sailing team – determination and persistence will always produce world-beating results!
Congratulations to all teams for some really great sailing!