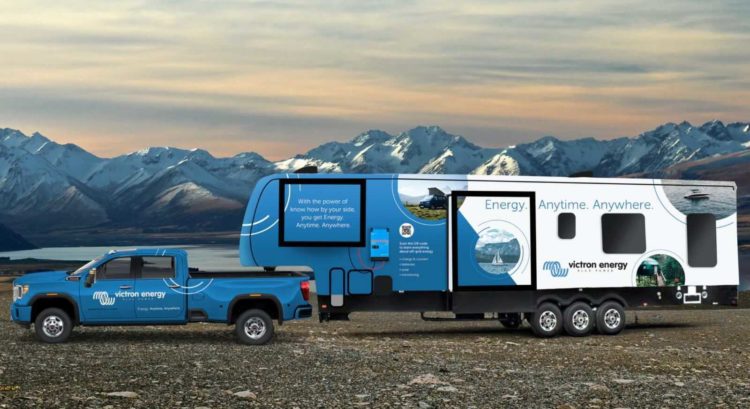 Hitting the road with its wheels spinning on July 15th the Victron Energy North America Training Tour is set to run and run.
Following the seasons, our technology-packed Training Trailer will be pulling up at venues right across the continent, attending a rolling diary of dates already booked as far ahead as next March.
Check the Schedule below to see when it will be in your area.
Who is it for?
The Victron Training Trailer is equipped with no fewer than seven different 'example' installations …so there's something inside for everyone.
We will be offering two different kinds of Event days:  There will be informal 'Open' days – on which everyone is welcome to come along and explore our installations; and there will be 'Structured Training' days for Victron Professionals and their guests.
So whether you're a Victron Installer, product Distributor, or power crazy DIY installer – building your own project for travelling by Land or Sea; Remote Living; Remote Working; or innovating your home with the latest private power technology – inside the Training Trailer you'll find answers to the questions you've always wanted to ask; plus loads more super ideas and solutions you didn't even know were possible.
Event Organiser Reian Werkman is dedicated to connecting people – both to each other, and to their passion.
Our Schedule of event days for the next couple of months is listed below. For ongoing news of the tour as it rolls towards your area please subscribe to our Facebook page. We'll shortly be announcing a webpage with news and reviews about the tour.
What's in the trailer?
The Training Trailer has seven unique set-ups which demonstrate ideal system topography design for:
Off Grid fixed installation
Small Recreational Vehicle set up
Large Recreational Vehicle system
System Monitoring
Marine Glass Bridge Integration
Battery Management systems and DC to DC converters
Victron Remote Management Portal – an in-depth exploration of this well-developed platform
The systems are being installed right now – we know that because we sneaked inside:
Wherever you attend the Victron Training Tour you are guaranteed to receive expert guidance from Victron Staff, Regional Sales Managers – and Victron Ambassadors like Nate Yarbrough whose passion for our products you will be aware of from his Social Media Channels.
What happens on a training day?
Your time will be maximised by our slick one-day training plan. From 08:30 to 16:45 you will receive professional training, rotating through each of our seven example installations.
We don't mean just standing and looking – you will be hands-on wiring the systems with an expert standing-by to answer questions as you work.
DIY visitors will receive training specifically targeted at their area of interest.
You'll get an overview of all our products; you'll be first to hear about products we're launching soon; and you'll get a feel of what drives our company.
But it's not just a one way street – our Training Tour is a great way for us to listen to your ideas, and to learn what you think will be the most interesting development areas for the future.
More: Offering training to Distributors, Installers and DIYers at the same time is a great opportunity for customers and suppliers to meet each other, and to build their relationship.
Who are our Ambassadors?
Charlie Johnson
Marc Stevens
Jim Dixon
Nate Yarbrough
Sam Reiser
Grant Wilson
Caza Gomis
Which locations will the Roadshow be visiting?
Here is our schedule, so far:
The Victron Training Tour starts with a bang at the premises of Future Sales Inc. in Elkhart, Indiana, on July 15th. Future Sales Inc. are a major parts-supplier to the best-known names in RV. Also helping us host the event will be the trans-continental and worldwide auto parts distributor Keystone Automotive.
On July 16th and 17th our venue will be the Master Tech RV facility – known throughout the region for their quality RV repairs, renovations and modifications.
Saturday 17th is our first 'Open Trailer' day – so be sure to come along and check us out!
SCHEDULE – TRAINING DAYS
If you would like to attend a training day you can register by clicking on a location.
July 2021
August 2021
August 3rd, 4th Annapolis, MD
August 17th, 18th Flagstaff, AZ
August 21st, 22nd Adventure Van Expo – Dillon, CO
August 23rd, Colorado Springs, CO
August 25th Denver, CO (open trailer day – location TBC shortly)
August 31st Price, UT
September 2021
During September we will be visiting: Missoula, MT; Kamiah ID; Sandpoint ID; Nanaimo/Victoria, Canada; Vancouver, BC; and Seattle, WA.
The following six months…
During the six months which follow we will be visiting Washington; Oregon; Nevada; California; Arizona; New Mexico; Texas; Louisiana; and Florida.
We'll be updating you with details of our locations nearer the time.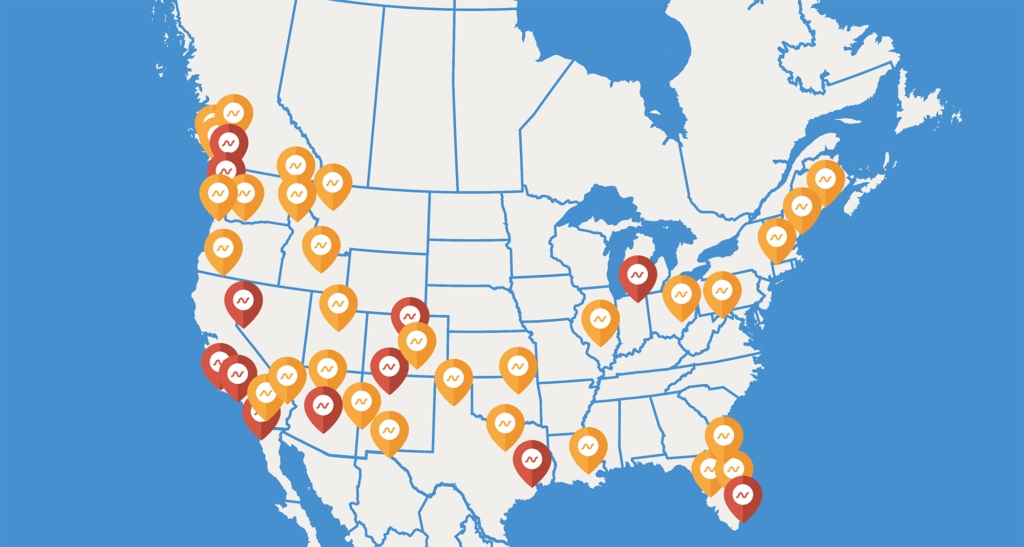 SCHEDULED – OPEN DAYS
July 17 – Elkhart, IN
August 20 – Santa Fe, NM
August 25 – Denver, CO
September 17 – Seattle, WA
October 13 – Portland, OR
October 27 – Reno, NV
November 3 – San Francisco, CA
November 10 – Los Angeles, CA
December 2 – San Diego, Ca
December 14 – Phoenix, AZ
January 27 – Houston, TX
February 17 – Miami, FL
February 25 – Jacksonville, FL
We're adding dates all the time and our flexibility allows us to take advantages of opportunities as they pop up. You can even request we add your location to our travel plans – so if you've got a venue suggestion get in touch with us on our social media pages: