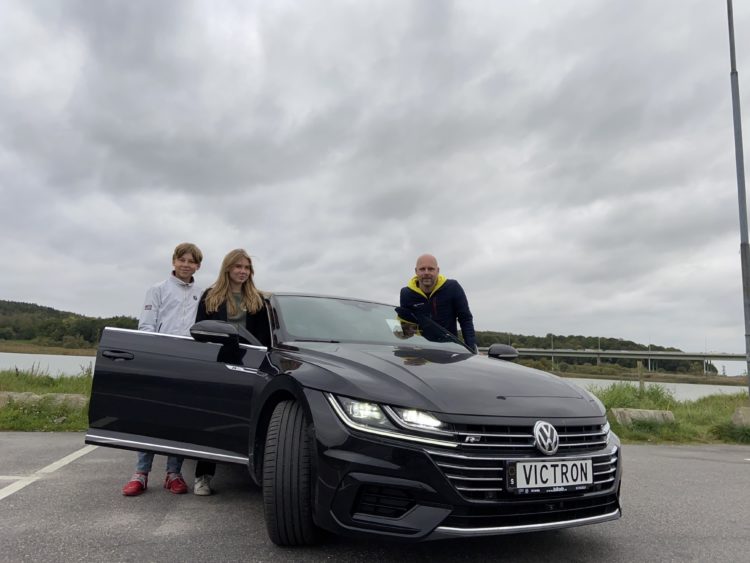 Henrik Nilsson, his daughter Engla (15) and son Loke (13) say 'Hi' from the west coast of Sweden as we continue our series introducing Victron Staff.
So let's ask:  Who is Henrik Nilson?
Hej from Sweden!
I'm Henrik Nilsson, the Victron Sales Manager for Sweden. Born and raised on the Swedish west coast (the best coast!), I currently reside in Kungälv, a small town 20 kilometers north of Gothenburg with my daughter (Engla, 15 years old) and my son (Loke, 13 years old).
My career arose from a burning interest in boats and the ocean in my teens, which inspired me to become a professional boat builder.  After getting tired of series production, I started my own company where I installed all kinds of equipment in boats of all makes and sizes.  This eventually led to a job as Sales Manager for Mastervolt Sweden where I began to comprehend the power-conversion solutions.
After feeling for quite some time that Victron's products were becoming more and more user-friendly and sophisticated, it was not difficult to say 'Yes' when the offer came to start working for the Blue team. Choosing to work for Victron was the best professional move I have made, and I feel that I have found a home with our family owned company.
When I'm not working, I try to combine my children's smouldering interest in athletics with our shared-interest in boats, and the sea – so there have been many training sessions on rocky islands on the Swedish west coast in recent summers.  During the cold dark period of the year we take advantage of any nice weekends in the archipelago, but otherwise most spare time goes to athletics, and trying to brew my own beer, or messing around a little with my old mopeds.