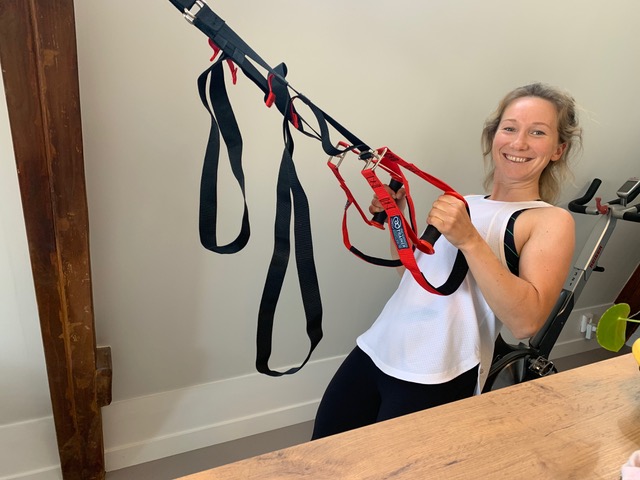 World Champion sailors Annemiek Bekkering and Annette Duetz, who will represent Holland at next year's Olympics are working hard during the lockdown to maintain themselves at peak fitness. Want to know how they do it?
Cycling
Outdoors, social distancing means that the Gym is closed. Cycling is a good way to be safe in the great outdoors. Annemiek says: We bike, as sailors, to build our aerobic conditioning. When our conditioning level is high, we can train longer on the water – and make more progress. Also during a regatta we don't race on only one day, we race six days in a row. On day six we need to be as fit and sharp as day one.
When we bike, we use our heart-rate monitor. So our trainer sets us a goal for how long we need to bike and in which heart-rate zone. During lockdown our program was at least 3 bike rides.  Two sessions for about 120 min and 1 session for at least 180 min. This last session we really enjoyed, because you can really go for a trip somewhere. The best route we did was a bike ride around the Markermeer – a 700 km2 (270 sq mi) lake in the Netherlands – on a route which runs for about 140 km.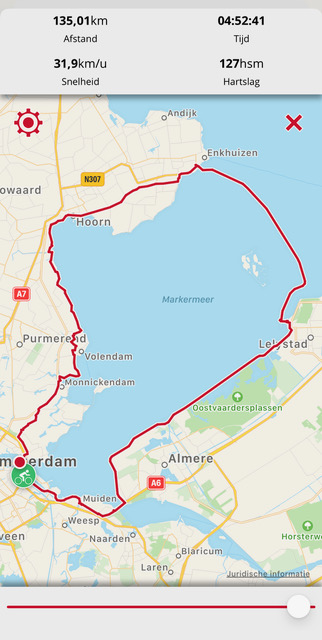 On the bike we also do intervals, we most often do this on a Wattbike (indoor). With the intervals our coach gives us an amount watt we need to stay on. Annette prefers the rowing machine for the intervals.

Stopping for a spot of sightseeing at sunset

Home-Gym
Our gym programs vary during the year. Because we have more time now than normal – when we are traveling and sailing – we can focus more on building strength and hypertrophy (muscle growth). In the FX we need a strong upper body, but we also need power in the legs. The upper body is needed to work the sheets of the sail, hoist the gennaker [a downwind sail, similar to a spinnaker] and to pull ourselves in quickly when we go out on the trapeze.
The exercises we do for this are pull ups (all kinds of), push ups, bench press, bench pull, rope pulls, bend over row, trx pulls… and variations of all these.
We focus on our legs so they are strong, explosive power, but also quick on our feet. We need to be quick through the boat – and when it's heeling heavily it's like walking up a mountain (we say sometimes). In light winds we bend our legs all the time. With very small movements we try to balance the boat. To get strong legs we do squats (front/back/split/single leg), deadlifts (also good for hips/back), box jumps, speed ladders….
In the gym we always focus on our core. We start a training with core and flexibility, and we end a training with core and some stretching. To maintain the work load it is important to have core strength, to avoid injuries. Also on the boat using the trapeze it's important to have strong core muscles.
Running
We don't run a lot because there is a risk of injuries on the joints. If we run, we run no longer than an hour. So we mainly run for fun or when we arrive in a new place – it's a nice way to explore a new area. We like to be active in all kinds of sports – depending on where we are. We use these activities as a bonus session: Hiking, supping [Paddle-boarding], mountain biking, playing squash, surfing, climbing, skiing.

Running to discover the landmarks!
Food binge?
The overall plan is to gain weight. So we try to eat enough protein during the day. We eat normal food, with the addition of some protein shakes after training.
Sometimes people think it is easy to gain weight, but in top-sport it is not that easy. With all the sailing and fitness training we do, we need a lot of calories. This needs to be well-planned, too, in order to acquire enough protein. Wherever we go, we always need to take food. It's something we have to think about every day.
We wondered if they ever cheat with their diet.
Annemiek says: It is good to treat yourself some times 🙂
Victron Energy sponsors Annemiek and Annette – together with the Dutch National 49erFX sailing team. The team work hard – always striving to be better, we look forward to seeing the fruits of all their hard work when we watch them in action soon.