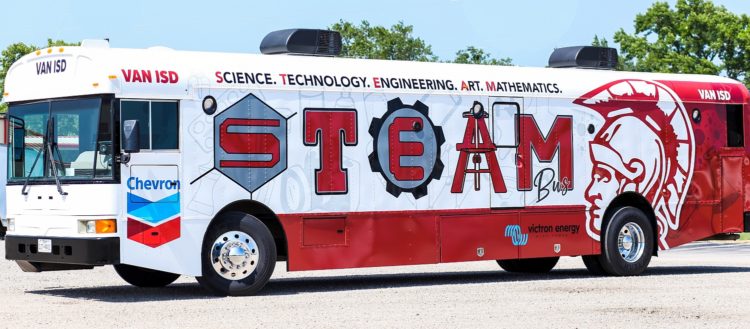 What a fantastic project and one Victron Energy are proud Platinum Sponsors of, but what is the STEAM bus and project all about?
STEAM stands for Science, Technology, Engineering, Art, and Mathematics. The STEAM Bus is Van district's latest learning resource for teachers and students in grades PreK-12. Van is a city located in Texas and Van ISD (Independent School District) consists of five school campuses that serve more than 2,200 students – all located in East Texas, close to Dallas.

The STEAM Bus is makerspace on wheels providing hands-on learning activities, across a variety of STEAM disciplines, where students can spend 45-60 minutes engaged in problem-based activities using technology such as tablets, Chromebooks, microscopes, ARVR equipment, robots, etc. The bus also hosts professional development opportunities, so teachers can have cutting edge resources and the skills needed to provide an enhanced educational experience for their students.
The beginning of STEAM
The STEAM Bus all started as a dream in the fall of 2017. The idea began when administrators started discussing how to get a makerspace on each Van ISD campus. A makerspace is a collaborative workspace inside a school for making, learning, exploring and sharing that uses high tech and no tech tools. The concept behind makerspace is more of a creative, problem-solving mindset and acquiring 21st-century skills in the fields of science, technology, engineering and math (STEM). For our makerspace, the team decided it was also important to incorporate an A for art; hence the name STEAM instead of STEM.
The problem they encountered during initial discussions was where to put these makerspaces since most campuses did not have the extra space needed to dedicate an entire room for that purpose. The solution? An old school bus that would be gutted, stripped down and transformed into a mobile learning lab and travel from campus to campus.
Planning
The administrative team took the idea to Van High School iTeam students to get their thoughts and input. Kids said they wanted virtual reality, augmented reality, green screen capabilities, and coding opportunities. They then gave ideas on what the design and colour scheme should look like. A group of students and teachers even got to visit the Boy Scouts of America's Mobile Makerspace in Austin, Keller ISD's mobile trailer, and Winona ISD's mobile reading lab to get even more ideas of what they liked and wanted to see incorporated.
Countless hours along with numerous challenges and problem-solving opportunities went into making the STEAM Bus a reality through months of in-house work by students, teachers, administrators, the technology and maintenance departments, along with a community volunteer.
The vision finally came to life as a 45-foot, one of a kind classroom on wheels that can travel from campus to campus, as well as outside the district to provide a unique learning experiences for pre-kindergarten through 12th grade students. The bus is equipped to hold 20 students inside and has additional teaching space on the outside for 10 more students.
The STEAM result
Here's two videos of the final result, taken from the inside of the STEAM bus.
Going by the noise, the initial test run was a great success!
STEAM Bus Facts
The STEAM Bus is a 43-foot renovated school bus
Design work was done by students, teachers, district instructional staff, technology and maintenance staff, and a community volunteer
Took just over a year from when the project started to launching the bus
Six hands-on workstations
Equipped for indoor & outdoor activities
Includes wireless Internet
Two large screen TVs and three large computer monitors that project video and web-based content
One large 75″ television on the bus exterior
Includes a 3-D laser printer
Lab equipment – microscopes, AR/VR equipment
Set up for green screen work inside/outside of the bus
Powered by a generator and solar panels
Sponsorship
Victron Energy are proud sponsors of the STEAM bus and donated the equipment below, to assist in helping (in part) this fantastic educational project.
Conclusion
My, how steam has changed since I started as a Royal Navy Marine Engineering Artificer (steam), over 45 years ago. In my day they just removed the 4.5 gun from our RN training Frigate to act as an at sea classroom, with but tables, chairs, instructor and blackboard…
I think I prefer the modern STEAM way of learning!
Credits
Heartiest congratulations to all that made this project happen.
Special thanks to Amy Moffatt (Instructional Technology) from the project for helping with the words and images, also Norm Lagasse their independent consultant to the project and last but not least Mitchell from Victron Energy dealer AM Solar – who stepped in to assist the Van ISD Team in connecting all the electrical components into a fully functional power system.
Links
STEAM Bus website – https://www.vansteambus.org/
VAN ISD STEAM Bus build images on Flickr – https://www.flickr.com/photos/vanisd/sets/72157709969133971/
Victron Energy dealer AM Solar – https://amsolar.com/