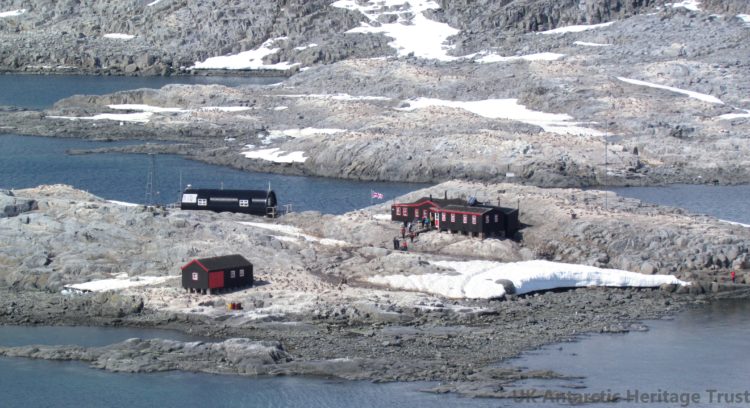 From November to March each year a small group of UK Antarctic Heritage Trust (UKAHT) staff travel to the end of the earth to open up a Post Office.
Not just any post office, of course – Port Lockroy has been a home to explorers, whalers, scientists, and sailors for over a hundred years. Today, its shop, museum, and post office receives 18,000 visitors per year who buy souvenirs, and between them send 80,000 postcards back home to their families all over the world. That makes Port Lockroy the most popular destination on the Antarctic continent.
Base A
Originally called Base A, Port Lockroy is located on Goudier Island – a thousand kilometres south of 'Cape Horn' …that infamous Ship's Graveyard situated in the 'roaring forties' at the southernmost tip of Chile. It was the first permanent British base to be established on the Antarctic Peninsula. Built in 1944 as part of a wartime mission code-named Operation Tabarin, after the Second World War it served as a science base – becoming the first of many British science bases around Antarctica. In 1962 it closed. In a dilapidated condition its historical importance was recognised in 1994, and it was designated a Historic Site. Restored in 1996, responsibility for it's care and maintenance passed to the UK Antarctic Heritage Trust who – since 2006 – have opened its doors every austral summer to adventurous travellers who can enjoy; learn; and help raise funds for the future posterity of the site when they purchase items from the shop.
Today
Today's visitors still arrive in Sailing Ships – and even small yachts – but more normally in the Cruise Ships and Cargo vessels which drop anchor in the sheltered harbour off the coast of Wiencke Island, nestled in the meeting-point of three seaways – offering safety amid dramatic mountain and glacier scenery.
Silent Power
To avoid running a noisy generator, and importing fuel, the trust's seasonal staff and visitors now benefit from 24 hour clean, silent energy provided by the sun. Power is harvested from a 2.6kW PV array by a pair of Victron MPPT 150/35 SmartSolar charge controllers. The battery bank is composed of 8 x 6V 335Ah Rolls AGM lead-acid cells which are maintenance free. A 3kVA Multiplus inverter/charger offers residents the comfort of home. It is capable of charging the batteries from the generator, if that should be required, and its PowerAssist feature combines battery power and generator power – greatly extending the capability of the installation. Bringing it right up to date – the system is equipped with Bluetooth, allowing performance to be monitored from a phone or other smart device.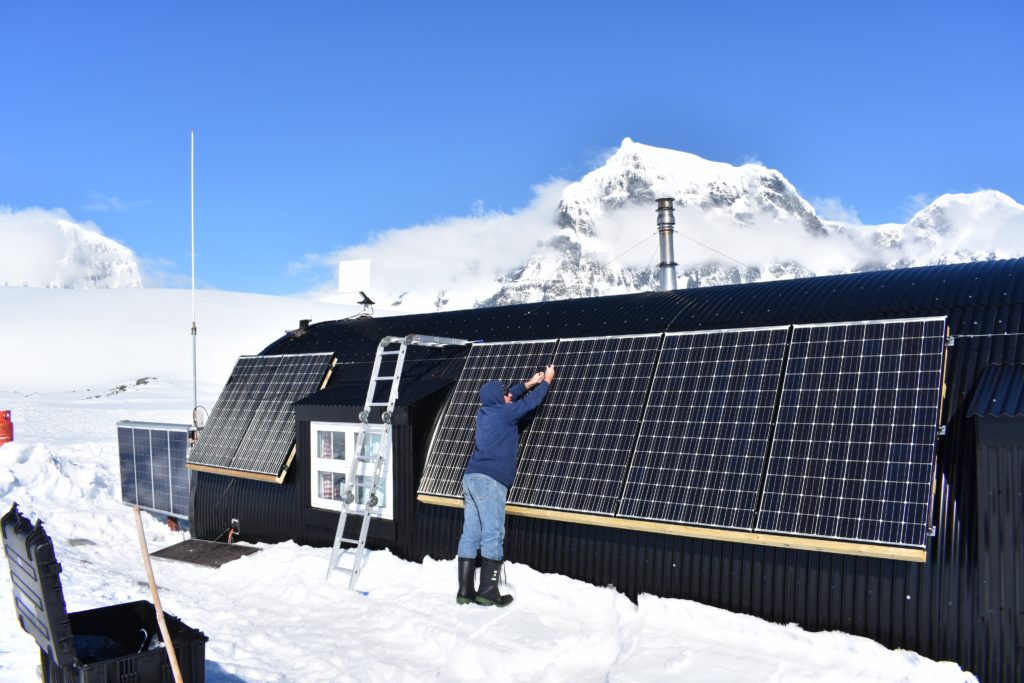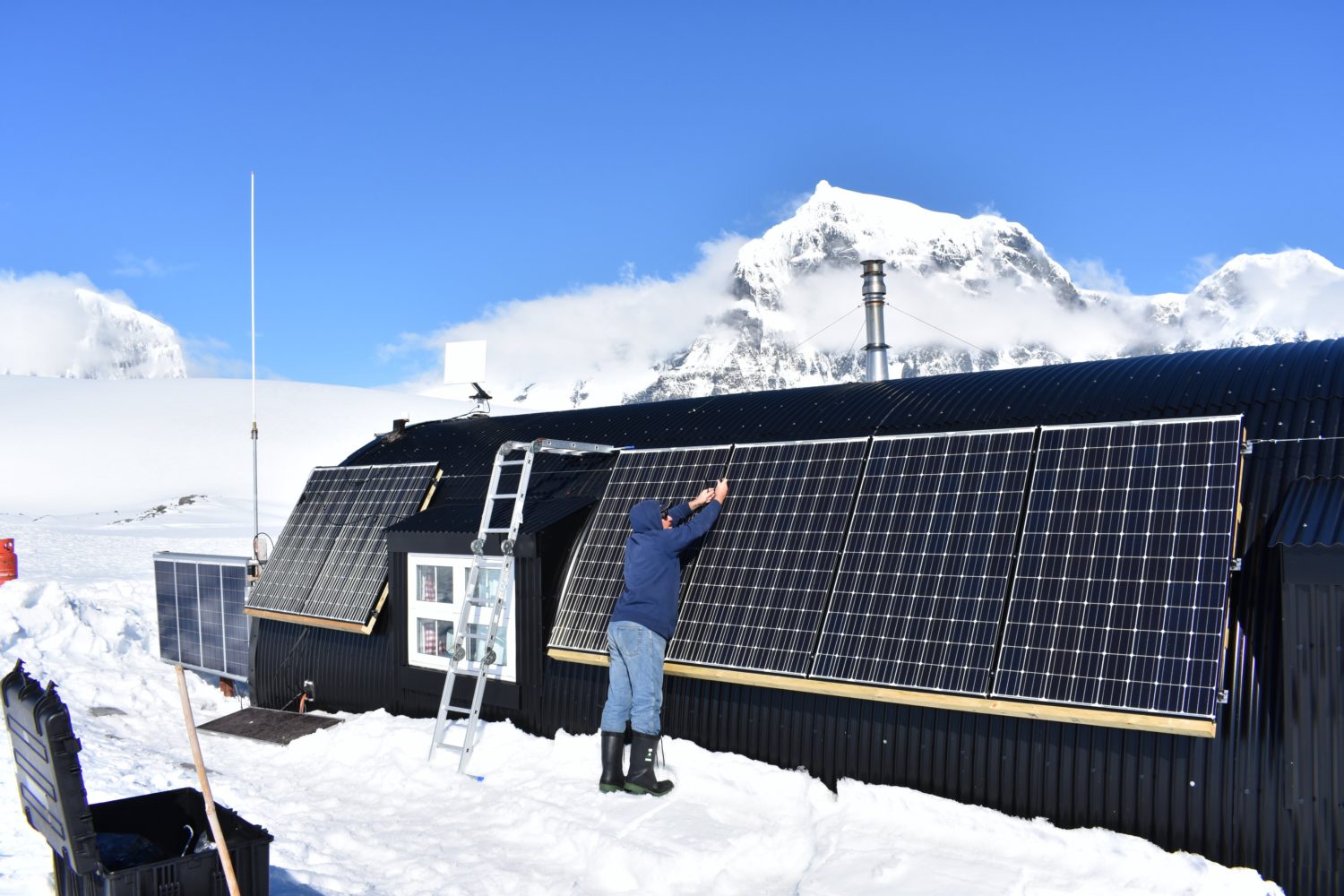 The normal installation route for this kind of system uses trained engineers – this wasn't possible 8,000 miles from home, and it's a credit to the UKAHT team, and to Midsummer Energy – who provided the team with training, together with written explanations and instructions for installing the pre-programmed system they had designed and supplied – that the 'amateur' installation of the all the kit has been such a success!
Conservation at Port Lockroy
Port Lockroy is the flagship historic site of the UK Antarctic Heritage trust, and the only site manned by a team every season. The harsh Antarctic climate and up to 18,000 visitors take their toll on the building, so a rigorous conservation management programme is in place to take care of the buildings and the artefacts within. You can learn more about our conservation work here: http://www.ukaht.org/discover/conservation/conservation-at-port-lockroy/
What kind of things can you see at Port Lockroy?
Visitors who enjoy going off-the-beaten-track will be able to take in the museum, gift shop and post office. In addition, there is the Gentoo penguin colony which shares the island with the UKAHT team.  The colony is protected and the UKAHT team monitor the population to chart breeding progress each season.  You can find out more about the colony and visiting Port Lockroy here.
And if you're considering applying to become one of the exclusive residents of Port Lockroy for a season of maintenance work and welcoming visitors, you can find out what to expect by reading their regular blogs, penned from the far end of the earth. This year's volunteers have just been selected.