The TU Delft Solar Boat Team – who cherish the long term-goal of changing the way we cross oceans – have just 'launched' their competition trimaran with which they hope to win the Solar Boat Race in Monaco …and then go on to break the solar speed record for crossing the English Channel.
They've chosen to design and built a trimaran for stability – and also because the vessel's overall dimensions – of 8metres long, and 6 wide – offers sufficient deck space to accommodate a 28m² solar array …which, they point out, provides enough power to boil three kettles at once.
Not that there will be much time for drinking tea: In addition to being able to cope with the rough and tumble of offshore conditions, their vessel has wings which enable the three hulls to lift out of the water and 'fly' on hydrofoils. – considerably reducing drag. At the kinds of speeds for which their vessel is intended all concentration will be required to meet the demands of the sea.
Presumably to emphasise the extraordinary scope of their ambition, the team chose to have their boat 'launched' by solo round-the-world-yachtswomen, and Dutch national, Laura Dekker. Laura's name will be familiar to many of us for her own perseverance and determination in becoming the youngest sailor in the world to achieve a circumnavigation – setting off on her voyage at the age of fourteen. So precociously ambitious was she, that she first had to win her battle with the authorities in order to be allowed to embark on her 50,000 km voyage.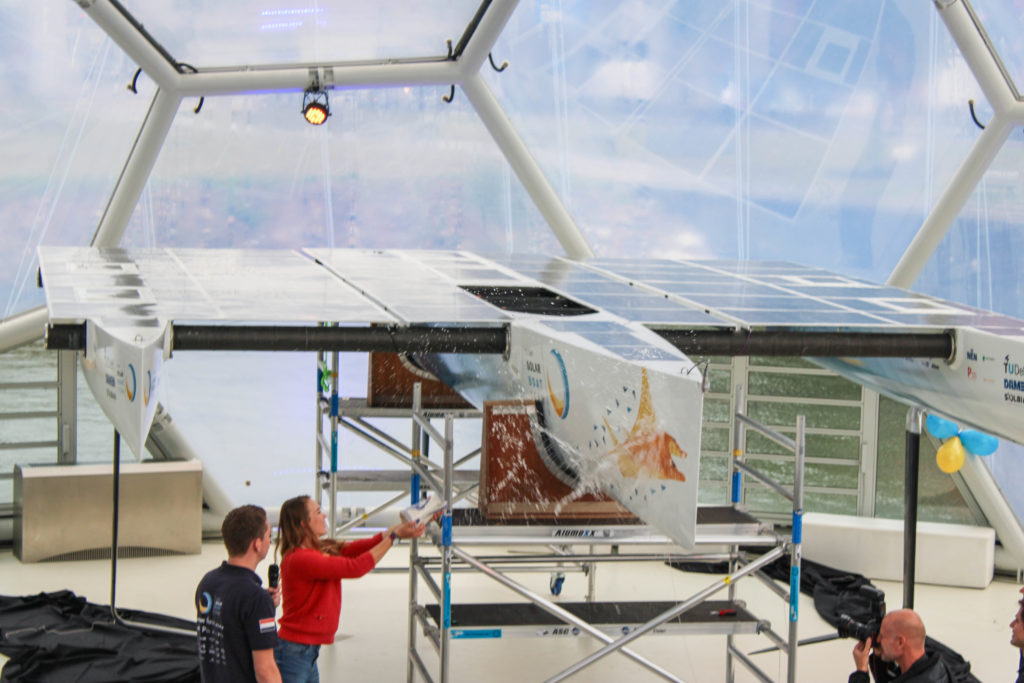 Baptising the boat Dekker said: just like me, the TU Delft Solar Boat Team also received some skewed eyes when they announced their project. It would be impossible and crazy work, certainly at such a young age. And at that time it was of course impossible, just as many people thought it would be impossible for a 14-year-old girl to sail around the world.
In response TU Delft Solar Boat Team say that this is exactly what inspires our team to win the world championship for solar boats in Monaco next summer – which consist of two legs sailing between France and Italy –  and then to break the world record by crossing the Channel as the fastest solar boat in the world.
Victron Energy is proud to sponsor TU Delft Solar Boat Team, and to encourage young engineering talent. We look forward to bringing you more news as TU Delft Solar Boat Team take on the challenges they have set themselves in their eight metre, three-man craft.