Karim El Alami and Cyril Colin met at UC Berkeley in California, whilst studying for their degrees in civil and environmental engineering. Their drive was to develop software to manage hybrid energy systems and reduce operators' bills.
In this short case study we focus on a hybrid energy system using Victron Energy components and ePowerBooster software – a new cloud-based controller built by Elum Energy, the company Karim and Cyril founded after their university days.
Introduction
It is often hard to define fixed genset start and stop rules that stay optimal throughout the year. For example, during the sunny season, charging your battery at night with a genset may lead to lost solar energy that could have been stored the following day.
This is the issue that ePowerBooster solves. Rather than using a fixed set of parameters, the solution continuously monitors the daily PV yield and load profile – then adapts the start/stop rules. This solution is surely of interest for any site where fuel costs are a consideration. The ePowerBooster especially helps in monitoring and optimising projects with large and/or multiple systems, where minimising operational costs are important.
Potential users can sign up to the free Victron VRM portal without installing any additional hardware and take advantage of a free 1-month trial of ePowerBooster. The opportunity then exists to save up to 15% on fuel costs.
About Elum Energy
Elum Energy's headquarters are in Paris, France. They specialise in the development of control systems designed for hybrid and battery-based solar projects. Their microgrid monitoring and control solutions are considered reliable, efficient and highly compatible. They can be installed on projects ranging from 100kW to 20 MW. To date systems have been installed by leading renewable project developers in more than 10 countries.
Case study: Ziragula – Rural electrification microgrid – Tanzania
The ePowerBooster has been deployed since January 2019 on a site developed by PowerGen in Tanzania, where it enables the electrification of rural communities. PowerGen started using the ePowerBooster on their PV/Battery/Diesel hybrid system without making any changes to their pre-existing hardware configuration.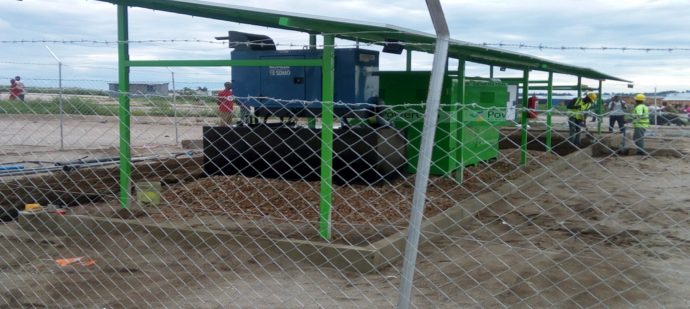 On this islanded hybrid site, eLum's ePowerBooster algorithm optimises generator cycling schedules in order to maximise solar energy usage and reduce generator runtime & fuel consumption.
Compared to fuel consumption with native Victron systems, the addition of ePowerBooster reduced fuel costs by 8% during the first month. An example – on the day shown in the graph below, genset consumption was 7.5kWh compared to 18kWh. This saved around 4 litres of fuel on that particular day.
To learn more, see the ePowerBooster PDF Datasheet.
ePowerBooster and Victron Energy integration
The video below shows how Elum Energy's ePowerBooster cloud-based controller connects with Victron Energy's control and monitoring systems.
Conclusion
Anything that helps to reduce the use of diesel fuel and save money can't be a bad thing. We are delighted Elum Energy have chosen Victron Energy system components and the VRM Portal to work in association with ePowerBooster.
For additional information about ePowerBooster, please email contact@elum-energy.com
My thanks to Yoann Le Fol (Victron Energy Sales Manager for West and Central Africa, Madagascar, Comoros) for making me aware of this project.
John Rushworth
Links
Website – https://elum-energy.com/en/home
Facebook – https://www.facebook.com/eLumEnergy
Twitter – https://twitter.com/eLum_energy