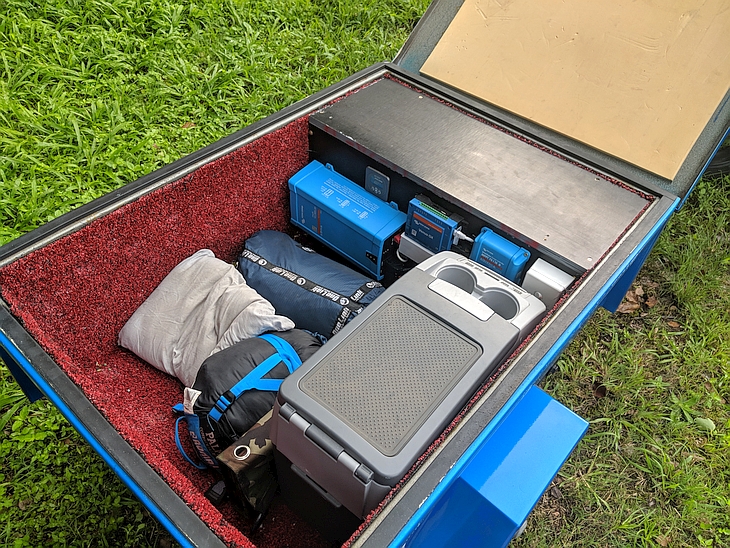 Confused by the heading – it's informal Australian for would you like a cold beer my friend?
Aussies like their cold tinnies, but what to do when camping in the wilds away from a fridge and even worse what if you are travelling by a luggage space restricted motorcycle – or to put it another way – not enough beer room! That wasn't going to stop thirsty Mike Haydon of 24 Hour Solar Power and his riding buddy.
Besides liking beer, Mike is also a Victron Energy dealer/installer based in Byron Bay, Australia. He's passionate about renewable energy and electric transportation, as you can see in an earlier blog:
The life electric: Trials, tribulations and riding on sunshine
Back to beer in the outback. Like me, Mike is mad about motorcycles and whilst moving from an internal combustion engine to an electric motorcycle remains a dream for me, he has already bought one – a Zero DS. The DS stands for Dual Sport, meaning it is both an on-road and off-road motorcycle. Not unsurprisingly it doesn't come as standard with decent sized camping storage, let alone room for cold beer – so a multipurpose trailer idea evolved.
Solar powered beer trailer
Mike takes up the story of his trailer build:
"The trailer build started when a mate and I planned to ride around the country on our trail bikes for a YouTube channel called Adventure Riding TV.
Visit Adventure Riding TV – or to see some off-road action of my electric Zero DS why not check out this video.
The biggest 'problem' we thought we would have is if we ended up in a camp spot for an overnighter and found ourselves with no cold beer. And of course we wanted to carry a few extra things in the trailer besides beer – maybe wine 😉
I went online to source a trailer and found a local used motorcycle trailer at a ridiculously cheap price, but was told there were a few things that needed sorted. I jumped in the car and went to take a look.  In fact it was just fine, a bit of air in the tyres, a quick paint job and we were ready to install some system components. Limited by size we knew we required quality and space efficient components to get the maximum solar yield from a small solar panel, using minimal installation space inside the trailer whilst still leaving a reasonable storage volume.
The goal was to run a 35 litre Waeco cooler (such as those here) which would fit perfectly in the space and components to charge all our camera gear and laptops at night. Energy required for that worked out to be about 250 watt hours of usage per 24 hours. Victron Energy compact components fitted the bill perfectly to achieve this.
The completed trailer uses a Victron SmartSolar MPPT 75/15 solar charge controller which makes sure we are maximising everything we can from the trailer's lid which is fitted with a 100 watt SunPower flexible panel. We also added a 140 watt ground array foldable panel that we can add in when parked up to give us some extra solar production. For the battery we chose to use a Victron lithium-ion Peak Power Pack as I couldn't see a better product for this application, having an inbuilt BMS, battery charger and Bluetooth control, whilst still giving 512 watt hours of usable energy in a very compact size. This was twice the storage we required for our 24 hour energy requirements. The fridge would mostly run during the day and we would only be using the energy stored at night to charge camera gear and some LED lights from the battery, when away from a grid power supply.
I then decided to install a Venus GX and a Battery Monitor, realising in fact that it is everything we use to install in a house when going mostly off grid – albeit on a smaller scale – so it makes an ideal demonstration unit too. You can view the trailer on VRM World by searching for Victron Trailer or by zooming into Byron Bay, Australia as the location. This is the direct link.
The next challenge was deciding on the inverter size. What I love about the Victron inverter/chargers are the seamless ease of the included automatic fast transfer switch capability. We went with a 12V 500VA MultiPlus inverter/charger, which allowed us to simply plug into a power socket on the side of the trailer for AC off-grid power (if available) and battery charging, whilst still being able to leave all our gear locked inside the trailer. We've not used the Uninterrupted AC power (UPS function), which if the AC in supply fails then the inverter within the Multi is automatically activated and takes over the supply to the connected loads. This happens so fast (less than 20 milliseconds) that connected equipment will continue to operate without disruption – due to that 16A fast transfer switch which kicks in the inverter automatically and seamlessly.  Most of our gear is low power AC to DC charging (which helps reduce the load on the inverter when not using the AC in) and therefore a larger rated unit would have been a waste in this instance, as 500VA of rated power via the installed battery is plenty for our needs. If you want larger than 500VA then the larger Multis come with even more features such as PowerAssist and PowerControl. See the datasheet for an explanation of these terms.
During the build of the trailer I wondered if I could also use the AC power out from the Multi to charge my electric motorcycle. The reality is there is not enough solar array area to do that via the Peak Power Pack and inverter, so it would be more beneficial to buy the optional extra battery for the bike to increase riding range.
I get asked every day if my motorcycle is actually solar powered. Technically it is, as in fact I charge it from our solar system at work or home but not from the trailer. The trailer would take about 20 days to charge the bike if we installed a big enough inverter via the trailer battery and integrated solar panel. Most people really don't appreciate the area of solar panels needed for high energy use and the amount of battery storage required.
So how has it been towing a trailer behind an electric motorcycle – it's been great as I also use it for work to design and consult on our solar jobs. I can even fit a collapsible ladder inside the trailer for site inspections.
Out of interest the Zero electric motorcycle uses about an extra 20% of energy from its own battery when towing the trailer. Even though towing has therefore reduced the bike's range the important things are still taken care of – as with trailer battery power there's always a cold tinny to hand after a hard day's work!
I hope the above gives some insight into my trailer build."
Mike Haydon
Solar Trailer components
Any suitable solar panel can be used. In this case it was a 100W SunPower flexible solar panel, although of course Victron Energy have their own range of BlueSolar Panels which are solid panels and are usually more affordable than flexible. Much will depend on available area and weight as to what you choose.
Conclusion
What a fun project – it's amazing the lengths some folk will go to for a cold beer and quite rightly so 🙂
Thanks to Mike Haydon for the images and information used in this blog.
John Rushworth
Links
http://www.24hoursolarpower.com/