World Vision Romania – A brighter Future
Christian humanitarian organisation World Vision is committed to helping parents and their children who are disadvantaged by poverty and offering them a brighter future.
Rising to that challenge in Romania, Lucian Popescu who runs ProWatt – the Bucharest-based Victron Energy distributor – began in 2015 to provide off-grid domestic electricity, free of charge, to impoverished rural families with the intention that their children could study effectively and comfortably …rather than by candlelight.
Quite a number of Romanian rural houses have never had electricity, and even some new houses never get connected to the electricity grid. In Romania it's possible to obtain permission from the City Hall to build yourself a house on land that doesn't lie within any village boundary. The land, although cheap, is often too far from power networks to make connection to the electricity grid viable and affordable. In these circumstances households either do without electricity, or otherwise it's not unknown for some households to make an illegal connection to the grid – in spite of the dangers.
Last year Lucian asked Ruurd ten Brink (Victron Energy Sales Manager for Switzerland, Austria, and Benelux) if he could help, and Ruurd arranged to provide Lucian with a consignment of Victron products so that more families could be helped.
This year Lucian and Ruurd have excelled themselves! By arranging to enable teams of personnel from Victron Energy's base in the Netherlands to join the ProWatt team in Romania, eight more disadvantaged families now enjoy off-grid domestic electricity!
Very generously giving up their time, working in teams of three during a rolling-series of consecutive visits to Romania during June, we'd like to take this opportunity to express our very great gratitude to:
Peter Baksteen,
Parwesh Bodha,
Martijn Coster,
Cristian Ene,
Juan Alberto Felix,
Mihai Frandes,
Laurens Haijma,
Eimert Hendrikson,
Bart Goofers,
Jesús Pérez,
Jaggat Sewsahai,
Arie Sulman,
Danielle Terlien,
Roland Wetering van de.
Their generosity will help to improve the chances of children growing up in poverty.
Each of the eight dwellings were provided with a 900w PV solar array which charges two 230ah batteries via an MPPT 150/35  to supply the household with domestic electricity using a Multi 24/500.
Here is the fascinating diary of one of those visits:
The first day.
A travel day for a group of 3 Victron staff from Schiphol Amsterdam, to Bucharest (Romania) and then on to lasi. At the airport in Bucharest there was time for a brief word with – and a few stories from – the group going back home to Amsterdam who were very impressed with what they had experienced.
After the second flight in a propeller airplane they landed in Iasi where Lucian and his co-workers Cristian and Mihai were waiting to take them to the hotel. Once at the hotel there was time for a quick beer, instructions for the following day, followed by dinner, and a brief walk through town looking for a toothbrush.
The second day.
The group woke early. It must have been all the excitement. There was time for a quick dip in the pool, then breakfast. At 9 a.m. after picking up everything they needed for the day they were on their way to the first family. What a difference with the city of Iasi …the contrast couldn't have been greater. The first house was a small cob cottage with a ramshackle roof and a busy yard.
It's almost unreal to see how little these people have – and yet it is so 'close' to home. Here in The Netherlands it's normal to have a water tap, electricity, a toilet, etc. and yet – right there in our backyard, so-to-speak – there are families with no electricity (save those whom we're trying to help) and their water comes from a well. Our chicken comes out of the fridge; theirs run around the house.
Indoors, there is little room to store clothes and cooking smells permeate the whole house. A number of children and their mother were watching very suspiciously what six men with blue shirts and caps were doing in their house. After giving Victron caps to the children, the ice was broken and they could get on with their work.
They began by unloading the truck and getting everything ready. Finding a place for the Multi, the battery, and the MPPT. Well, in the hallway behind the door is probably the best place. Hanging everything will be a challenge considering the poor construction of the walls. One lightbulb was installed in the hallway and another in the bedroom (how can you ever get any sleep with so many people in one room?); and then the wiring and switches were completed to the Multi. Under the supervision of Cristian (Prowatt) who has a lot of experience, part of the group was busy with the panels on the roof. A dangerous job, considering the state of the roof.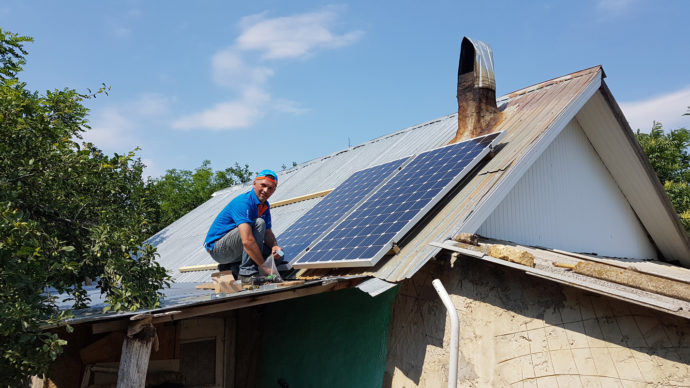 After installing all the Victron equipment and checking everything is in working order, it is time to surprise the children with the toys and the goodies the team have brought along. A football, pencils, paper, candy and much more. After seeing the happy faces of the children you know how true it is that giving is better than receiving.
Time to pack up and get on their way for a bite to eat. They brought their own lunch because in the vicinity there are no restaurants, nor anywhere to eat or buy a meal. On a hill with a beautiful view they enjoyed their packed lunches.
After lunch it was time to go to the second family. Here the well cared-for children were scrubbed clean and assembled for our arrival – like a royal visit! The father of the household had done his best to improve conditions for a better life for his family. He'd already installed a fuse box, light sockets and switches – but could not afford the power supply.
This immediately gives you a positive feeling. Again the team unload the cars and they divide the group in two. One group will keep busy with the panels on the roof and the other will install the Multi, and the MPPT. After helping with a few things Martijn decided to entertain the children.
When the work was done, they give the children gifts. You can only imagine how happy they were. And the school supplies were definitely more than welcome. The older children go to school and we were told they do quite well. One of the children is top of her class, (and remember that she achieved this doing her homework by candlelight). So with the new Victron installation her achievements will only improve. That gives you a great feeling and you realize that it really makes sense what you have been doing that day. As Lucian said; if only one of the children makes it then the mission was a success.
Time to clean up and be on their way, back to the hotel in Iasi for a beer and a swim. Again, the contrast is great with the experiences of that day.
The last day:
They began the day with a brisk walk through town and then departed for the airport, and their flight home. What a beautiful experience to have been part of this project and have the opportunity to help these families. For our Victron co-workers it was just a small thing to do …they all wished they could have done more.
Today Lucian, Cristian and Mihai have an 8 hour drive back home to Bucharest. They are happy to go home after all their hard work. We told them to drive carefully because they can't be missed – the world needs people like them.
After arriving home we were asked if this project left an impression. We can whole-heartedly say; Yes, it did. So much so, that we all want to go back to help even more families. We would like to thank Matthijs and Reinout for giving us the opportunity to go to Iasi and to participate in this project.
And of course many, many thanks to Lucian, Cristian and Michai of Prowatt for everything they did to make our stay in Iasi a memorable one.
Very many thanks to Margriet Armour for this insight into an inspiring story, and in particular to the commitment of Lucian Popescu, and Ruurd ten Brink, not just for the work they have done and continue to do – but for reminding all of us that we can make a difference.