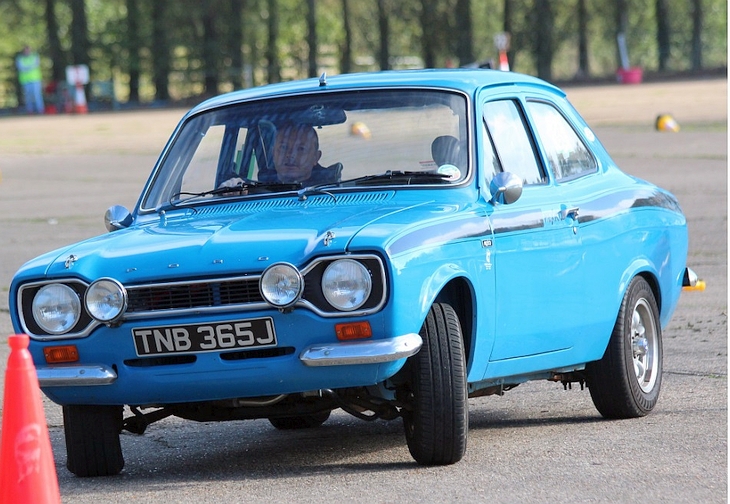 Hi, does anyone fancy a toasted sandwich?
I've often been seen serving up these mouth watering delights at motor racing events such as the 2016 OMC Boanerges Autosolo event – featured in the headline image above along with my Ford Escort Mexico MkI.  I drive at some events and marshal at others, but cooking with electricity in a field often starts more of a conversation than my driving!
Besides motor racing events I like to repair and make things, at home mainly with varying degrees of success which in-turn are greeted by varying degrees of enthusiasm from my family. If it can be re-used then don't buy a new one is my motto. I've made BBQs from washing machines complete with slow turn mechanism; my last project was building 64 m2 of garden decking from rosewood timber flooring I reclaimed near to the old Victoria Docks in London.
Now both my daughters are independent I get more time to work on and sometimes race my old Escort. I am a safety marshal at the Silverstone Circuit and my wife and I enjoy competing in Autotest events a few times a year which basically involves driving an old car as fast as you can around a track in a field – it's the most fun you can have in 2nd gear!
I also enjoy singing in a small band called "Summer Breeze" and try to play a few rounds of golf each year.
Although I have been fortunate to travel to many countries with work I have always lived in England, North of London, it's a fascinating city.
I originally qualified as a Metallurgist & Production Engineer, then 20 years ago I had my first professional encounter with batteries and power supplies. Various sales and technical jobs in the battery industry since have come and gone until in March 2014 when I was delighted to join Victron Energy as Sales Manager for the United Kingdom & Ireland.
Thanks for reading a bit about me – and I hope to meet you soon for a Toastie!