Erik Mulder got the inspiration for his brand of tough, go-anywhere expedition trucks a few years back, whilst planning his own adventure.
Incorporating his ideas of luxury containerised accommodation, built onto a four-point torsion-free subframe, powered by a world class trucks, resulted in the first Range Leader.
During the next six months he took his truck through Belgium to Luxembourg, France and Spain – then a hop down to Tangier and Morocco – before taking in Portugal, Germany, Austria, Slovenia and Croatia on his way home.
The further he went, and the more diverse the conditions he encountered …the more he realised he'd built a remarkable vehicle. His truck turned envious heads. Sometimes he passed another adventure van broken down along the roadside. Of course, he would stop to see if he could help …but for him and his vehicle, nothing went wrong.
Luxury Accommodation
The Range Leader is generously appointed with high-quality utilities and conveniences. Erik says that his competitive edge is to use premium brands in every detail. Consequently the accommodation boasts the kind of equipment you have at home – Induction cooking hob; 135ltr fridge/60ltr deep freeze; Siemans Microwave and convection oven; Miele washing machine; Air conditioning and Heating.
Power House
All this domestic equipment has to be matched with a generous power supply: In the Range Leader 510 Special the 24V Lithium Ion Battery Bank has a capacity of 800A – in practice, over 20kWh of power.
Battery charging is controlled by the Lynx Smart BMS, and distribution is handled by the matching Lynx distributor. A Quattro Inverter/Charger provides a generous 8kW of domestic power; and can supply a charge current of 200A. The roof has a solar array delivering 1080kWp controlled by SmartSolar MPPT solar charge controllers. The whole system is harmonised by a Cerbo GX which has a GX Touch 50 – a touch screen user interface allowing allowing system data to be monitored at your fingertips.
And if you ever have to leave your truck – perhaps to fly home for a period – the Cerbo GX reports data to Victron Energy's free to use platform Victron Remote Management (VRM)-  allowing you to monitor and even control your power system from the other side of the world.
And for peace of mind, VRM offers geofencing amongst its extraordinary range of livestream and historic graphic data analysis; together with Alarm Push Notifications straight to your phone.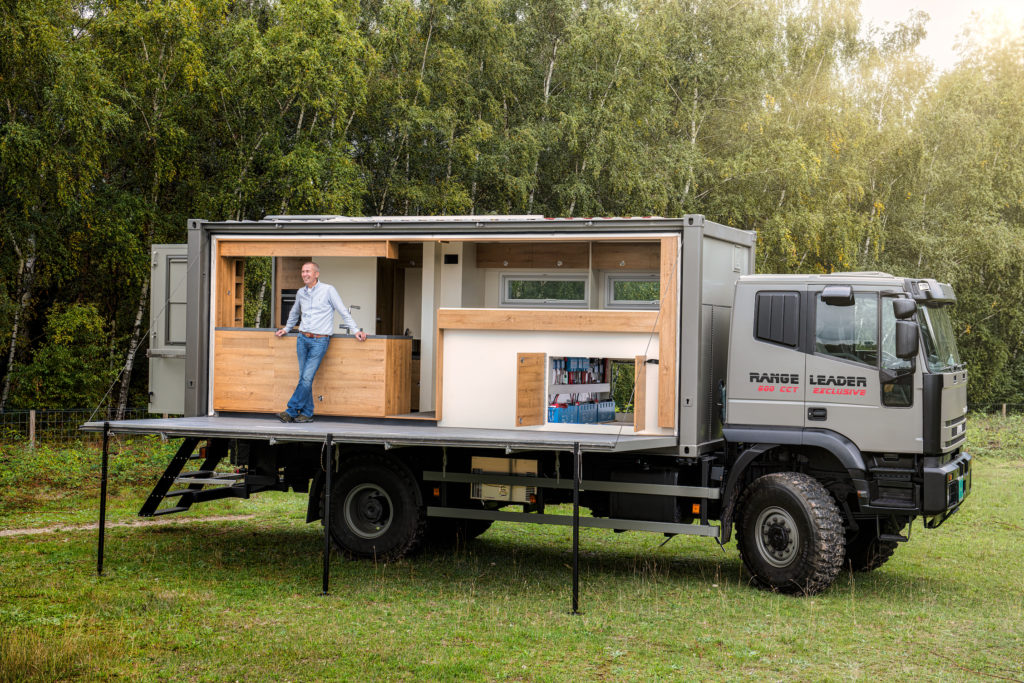 Off-Road Tough
The Container frame makes the vehicle structure stronger in a way that sandwich panels just can't. Of course, not all truck frames can take the weight of rigid containerised accommodation where everything – from the Glass door in the bathroom, to the top of the range Siemans washing machine is fitted as standard …rather than selected as a luxury option.
So the Range Leader series of Expedition Trucks – which are based on container lengths of 3.5 / 4.9 / 5.1 and 6.0 metres are mounted on Torsion-free subframes, and powered by a range of world class transport units – such as  MAN Truck and Bus who for almost 70 years have been manufacturing fleet vehicles with a range which culminates today in a power unit capable of towing 250 tons!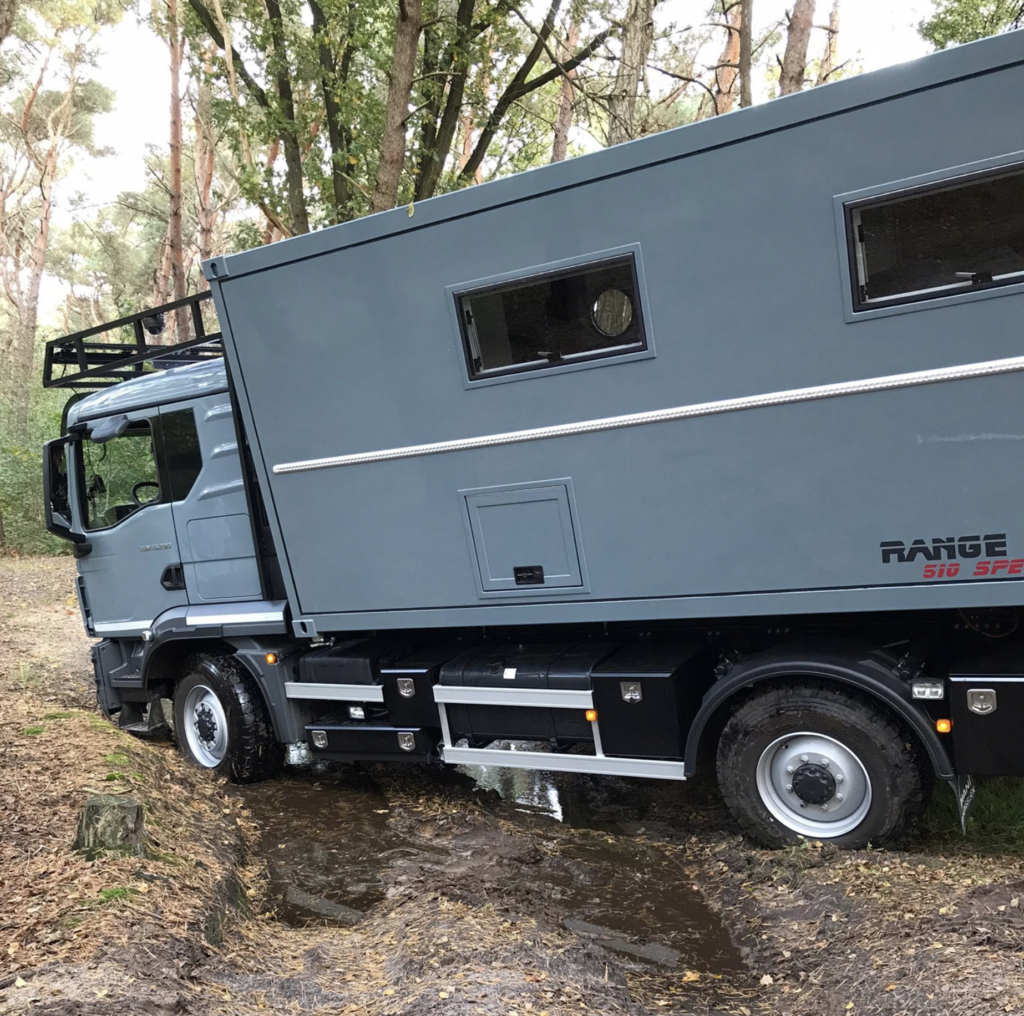 Testing truck longevity in the real world
When Erik Mulder came home to build more trucks he sold the original Range Leader to another adventurer who took it across the other side of the world to Australia. A couple of years into his journey Erik had the chance to get a bit of customer feedback:
What do I need to change? he asked.
Nothing; was the reply.