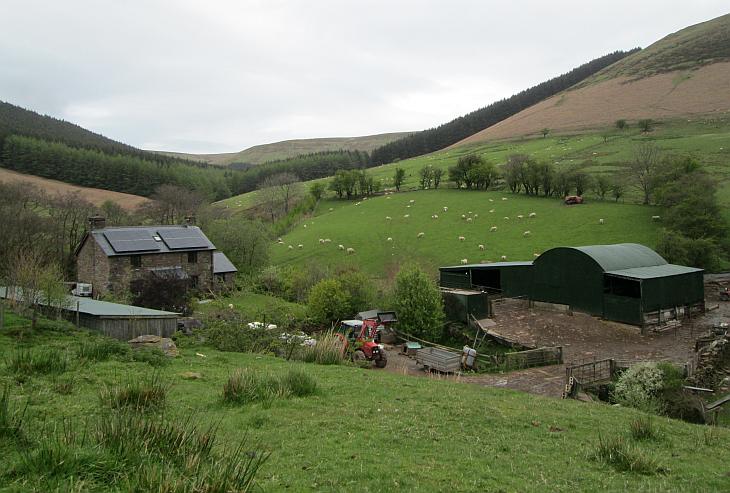 Update January 2018: Ecolek Wales Ltd is currently in liquidation and this blog is kept merely for posterity.
Update March 2017: Ecolek Wales Ltd have recently launched a new website which can be found here www.ecolekenergy.co.uk. They are currently working on several existing projects using Victron Energy equipment which includes Passiv Housing, Wind Turbines and even disconnecting from the electricity grid. For any information or help with your project please contact info@ecolek.co.uk
---
Here is a great example of Victron Energy and one of our installers (Ecolek Wales Ltd) coming to the rescue. Why you may ask? The facts are that not everyone in the UK has grid connected electricity and a cabled phone line. Would you pay £142,000 to have mains electricity connected and then pay another £42,000 for a phone line. I suspect not…
These numbers though are the ones that Deborah and Phil at Parc Bach farm (shown in the photograph above) in the Black Mountains in Wales were quoted. A complete non starter; so up to now the farm has been entirely dependent on one of those noisy, polluting diesel generators. At this juncture it's best to let Deborah and Phil take up the story:
Off grid challenges at Parc Bach farm
"We live on a remote hill farm in the Brecon Beacons National Park. The house is at a height of 1,500 feet and very isolated. It is a beautiful location but has no mains electricity – all our power until recently being provided by an 11kVA Hyundai generator.
This has its drawbacks. It's noisy when operational (4-5 hours per day) and gets expensive in diesel fuel. Diesel in the UK currently costs around £1.15 a litre. We did not have a full time fridge or deep freeze – which from a food safety perspective is risky. In the winter we had no lights on in the day. We could only use the internet when the generator was operational and with no phone line either, this exacerbated the feeling of isolation and made communication with the outside modern world difficult."
Off grid solar PV and battery storage solution
"In 2012 a consultant from Ecolek Wales called. We had looked at various green options but non really suited our needs or location. Andy and Ian from Ecolek were persistent. They carefully considered our requirements and tailored a system that would suit us and meet all our needs.
In April 2015 they installed the system using the most up to date products available. They did an excellent professional job with the minimum of disruption and were also very trustworthy, informative and easy going people into the bargain! So far we are extremely pleased with our investment and choice of contractors – it should pay for itself in less than 10 years after which we will have free electric."
Silence is golden
"Silence has returned and this is probably our favourite aspect of the project. The attractive 16 black panels run our entire 4 bedroom house through a lithium battery and control system installed in the loft. Since installation we have not used the generator once! Any problems and we know Ian and Andy of Ecolek are only a phone call away. That is always reassuring.
Thank you Ian and Andy, you really have made a huge improvement to our lives and we would have no hesitation in recommending Ecolek to anyone.
Deborah and Phil"
Parc Bach farm Victron Remote Management (VRM) portal share:
https://vrm.victronenergy.com/site/share/39249929
Solar powered sheep shearing
I think Deborah and Phil's account of the Victron Energy system is great and suggests they might even get to shear their sheep using electric shears in relative silence too, using their 5.2 kWp of installed PV together with their 9.2 kWh of lithium battery storage.
I can so relate to all this, as I spent many a happy summer holiday as a child on just such a Welsh hillside farm. Back then it was hand shears though. Things have come a long way since then. Here then are the modern world components of this Victron Energy powered off grid solar PV and battery storage solution.
At Parc Bach farm – hand shearing sheep is now optional!
Victron Energy system components
Victron Energy – Off grid solar PV and battery storage system fitted by Ecolek at Parc Bach farm in Wales
Conclusion
The Parc Bach farm project uses the same DC coupled system as previously reported on for the SOLCER (Smart Operation for a Low Carbon Energy Region) energy positive house.
These installations have created widespread interest, plus particular interest among the Welsh farming community and within the rural Welsh government. Wales is and remains strongly pro-renewables, despite the UK government and their recent announcement to reduce the feed in tariff (FIT) support. Even with FIT rate reductions, such systems remain attractive for all the benefits described above.
Credits
Thanks to Ian Hewson of Ecolek Wales for making us aware of this project.
Thanks to Phil & Deborah of Parc Bach farm for sharing their story and their Victron Remote Management (VRM) site with our readers: https://vrm.victronenergy.com/site/share/39249929
John Rushworth